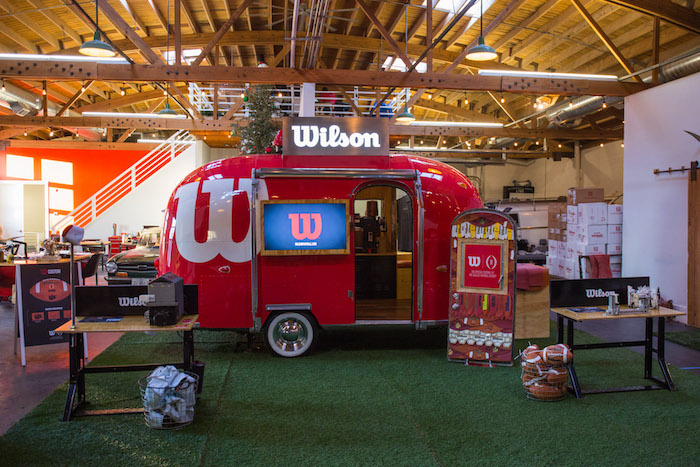 OutCold, a Chicago-based experiential marketing agency, has created an immersive mobile experience for Wilson Sporting Goods that showcases how the company creates its handcrafted leather game footballs. "The Wilson Experience" made its debut at the 2018 College Football Playoff in Atlanta in early January.
OutCold created this roving brand experience from a refurbished Airstream trailer. The 16-foot Airstream Bambi trailer brings to the life the innovation and heritage of Wilson in American Football. To design "The Wilson Experience," OutCold utilised the hallmark materials that Wilson craftspeople use to create every leather game football, including exclusive brown leather from Horween Leather Company in Chicago and pebbled white laces.
While navigating through this pop-up experience, fans will have an opportunity to experience first-hand several of the key steps in making a Wilson leather game football, including turning and sewing. Fans can customise their own Wilson leather game football by laser etching the logo of their favorite college team, their name or a phrase on the leather game ball of their choice.
"The Wilson Experience offers fans a behind-the-scenes glimpse into how our craftsmen and craftswomen in Ada, Ohio, hand-make nearly 700,000 leather game footballs every year," said Amanda Lamb, global marketing director, Wilson Sporting Goods. "We wanted to find a clever and engaging way to bring our football factory to life at marquee football events so that fans could better understand how footballs are made and take a special piece of that experience home with them."
Wilson has been involved in the development and evolution of football in America since the 1920s. The company has worked alongside many NFL and college football's to=cc=p coaches and players to develop new football technology to enhance player performance and the game. And since 1955, every Wilson college leather game football has been handmade at the company's football factory in Ada, Ohio.
"There is nothing more American than Wilson footballs and the game day experience. Our challenge was to create an attention-grabbing experience that celebrates the brand's amazing history while enticing consumers to engage with the brand in a unique and memorable way," said Liam Boyle, CMO of OutCold.
Following the launch at College Football Playoff, the mobile experience will make various stops at sporting events and venues across the country.