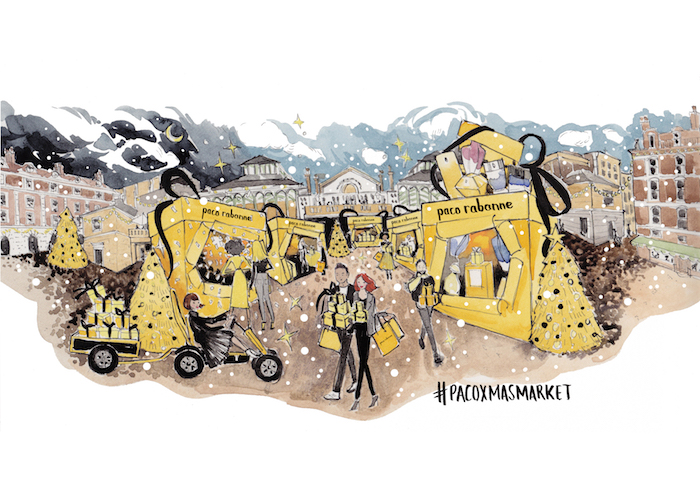 Paco Rabanne fragrances will set a category precedent with the first ever fragrance inspired Christmas Market, which will pop up in four key locations across the nation over the Christmas period.
The PUIG owned fragrance house will open its festive doors with a multi-sensory Christmas Market experience, offering shoppers the chance to immerse themselves in the Paco Rabanne universe. Created in partnership with brand experience agency MKTG and media planning and buying Starcom, the spirit of Christmas will be brought to life with a vast golden space that celebrates the art of gifting.
Dedicated to bringing a fragrant universe to life unlike ever before the Paco Rabanne Christmas Market will run in conjunction with an integrated campaign across digital and social channels, all inspired by the craftmanship of the metal worker; a nod to the iconic laser discs fashioned in metal by the House of Paco Rabanne.
Joyful, sparkling and in true Paco Rabanne style it is set to be infectious and unapologetically nonconformist. The spirit of Christmas will be imbued by Paco and his Rabannettes as they whizz by on their golden Christmas carts, ushering shoppers through to a Christmas shopping experience; offering vials of fragrance for passersby to try.
Paco Rabanne mince pies will be served and guests can receive an express manicure. Shoppers will be able to sample an array of fragrances within the portfolio.
Fragrant golden blasts of glitter will burst into the air at regular intervals allowing for the perfect photo opportunity and  all visitors can claim a complimentary hand finished Christmas bauble that will be crafted by calligraphers on site.
PUIG UK marketing director, Aliki Zachariadis, said: "We've been known as a fragrance brand to deliver beautiful storytelling through our innovative bottles and ads. However, this is no longer enough to capture the attention of millennial consumers who seek experiences above anything else. With the Paco Rabanne Christmas Market we hope to bring our story to life through a totally immersive experience during the most important gifting period of the year."
Amy Kean, head of strategic innovation, global clients at Starcom, said: "As the human experience agency, we're so proud of this brave and extravagant execution. Paco Rabanne fragrances are top-sellers every Christmas, so it felt right to put their golden stamp on the festive season with something so unmissable. This campaign will tick all the boxes: stimulate the senses, wow the Instagrammers with glittery innovation and provide a personalised product for every shopper."
The Pacco Rabanne Christmas Market will visit Manchester Piccadilly Gardens, Birmingham Bullring, London Covent Garden and Liverpool One.