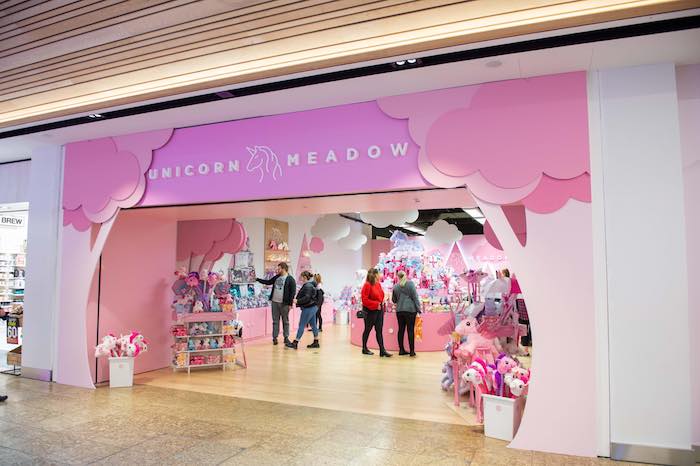 Meadowhall has launched an immersive unicorn themed pop-up store for shoppers to experience this Christmas. Located on lower Park Lane, the 861 sq ft store has opened for the Christmas shopping season and will offer a wide range of unicorn-themed gifting products including bags, mugs, toys and stationery. The brand joins as the centre reports a successful period of increased footfall at +4.4% comparatively to October 2017.
Unicorn Meadow broadens Meadowhall's Christmas experience by providing visitors with a highly sensory environment that taps into the four senses of smell, sound, taste and feel.  Embracing the current trend of unicorn merchandise, the store allows Meadowhall's visitors to immerse themselves into the enchanting world of Unicorn Meadow. The store also includes a number of 'Instagram moments' designed to encourage visitors to share their experiences online and since opening, the brand has already engaged with over 400,000 followers across social media.
Jon Brookes, senior asset manager for British Land, co-owner and asset manager of Meadowhall, said: "The Unicorn Meadow store is a unique immersive experience that complements the great range of stores and restaurants available to visitors during the peak seasonal period. Together, they create one of the most comprehensive and engaging Christmas experiences available, one that is designed to drive footfall, dwell, spend and interaction."
The opening of Unicorn Meadowhall follows the sell-out light switch-on concert, held at the centre on November 6 to officially launch Christmas. Capital Breakfast presenters Adam O'Neill, Danny Oakes and JoJo hosted this year's Christmas light switch on event at Meadowhall with performances from Professor Green, Union J & Alex Goddard.