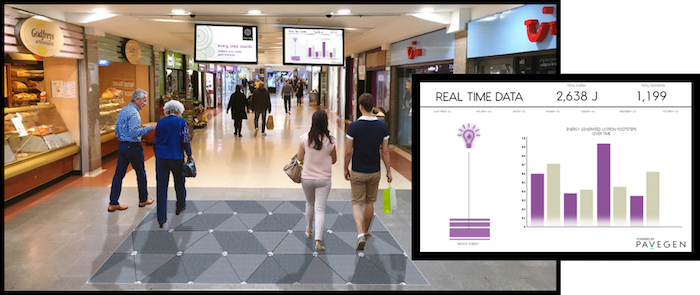 A pioneering community shopping centre is converting footsteps of visitors into rewards in a global first for shopping centres. Ellandi-owned The Mercury, nestled in the heart of East London, is embracing renewable energy and clean technology by introducing an energy and data walkway at its entrance.
The shift from 'shopping trip' to 'shopping experience' is defining the new era of retail where technology is key to this change.
The new entrance walkway will convert the kinetic energy of up to 60,000 customers' footsteps per day, earning them 'Smart Rewards' points to spend in the centre while generating off-grid electricity to power services. The six-square metre system, designed by award-winning UK firm Pavegen, will display the off-grid energy on screens, as well as notifications of new rewards for customers.
The walkway is the latest in a series of sustainability initiatives for The Mercury, which has already installed solar panels, invested in the latest highly efficient heating systems and will achieve zero waste to landfill in 2018. But unlike other 'silent' eco-friendly initiatives that the centre has invested in, customers will physically experience the energy and technology and be rewarded via the Smart Rewards app, in this positive awareness raising installation. The walkway will be providing customers with information on how much off-grid electricity their footsteps are generating via screens above the walkway. By checking on The Mercury Smart Rewards app, customers will be able to convert this energy into personal 'Smart Rewards' points for discounts and offers at the centre.
Spencer Hawken, centre manager, Mercury Mall: "The exciting thing about the walkway is that it gives our customers a chance to play their part in our sustainability story, simply by walking into the centre.
"As a community shopping centre, our loyal customers choose to shop local and often – it fits around their daily lives and offers them value for money and sociability; this is a great way for customers to have a real social impact for every step they make in their physical journey. The whole idea is that sustainability should be fun and engaging – this installation is a visual place maker and when customers realise that their steps will be converted into reward points that they can spend here in our shops, that's a win-win for all of us."
The Mercury is an appropriate location for this ground-breaking environmental technology. Romford, with over 6,000 new businesses a year is the UK's start-up capital and the town is also situated in Havering, London's fastest growing hub for tech enterprises.
The shopping centre of the future needs to offer extensive choice. It also needs to be technologically robust, engaging and offer interactive experiences to captivate habitual shoppers. By combining a new technology, enhancing customer experience, making use of big data and maximising space, the Mercury can reap the rewards of a rapidly changing landscape.
Spencer Hawken, shopping centre manager, The Mercury says: "As a community shopping centre, we have a loyal customer base with many visiting our mall three times a week or more. This technology creates a highly engaging and immersive experience for our customers.
"Pavegen will be an excellent accompaniment to our Smart Rewards tech, free Wi-Fi, innovative events and customer service."
Laurence Kemball-Cook, founder and CEO, Pavegen says: "Pavegen is all about putting people at the heart of smart city infrastructure. Our technology offers retailer owners and brands the opportunity to connect with people on these issues in a powerful way, and with minimum effort. Just by taking a step, we can enable people to become part of a positive story.