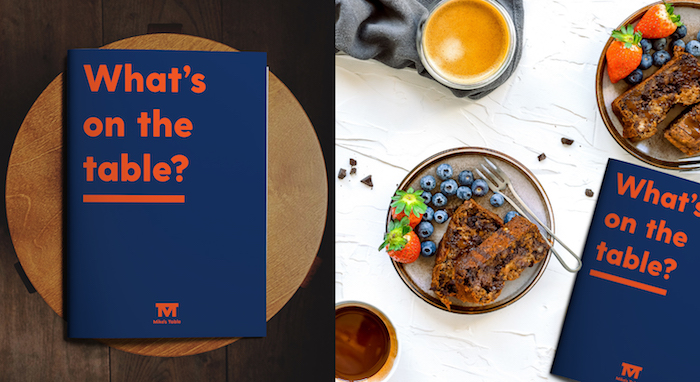 Brand and design consultancy Perq Studio has gifted its strategic brand, design and campaign expertise to create a refreshed identity for Mike's Table, a non-profit supper club with a difference.
At Mike's Table, paying guests get more than a meal. Their ticket pays for someone else to take a seat at the table too. That person may be a carer, a refugee or someone recovering from illness or addiction, but whatever their story they get to enjoy a mouth-watering three course meal, all created from donated ingredients. Founded by Louise Holstein to honour her late husband Mike through their shared love of food, the brand grew and needed to strengthen its presence in a coherent way while retaining its altruistic heart.
Perq Studio's new brand positioning and tone of voice balanced the brand's ethical and foodie credentials, with the strapline 'it's on me' using a familiar phrase to explain the one-for-one ticket structure. Keeping the original orange brand colour, Perq Studio transformed the existing logo into a confident mark and added a modern, foodie colour palette to support it. The result is a playful, friendly aesthetic that has been applied to event collateral including menus, social, posters and newsletters, with a website refresh in the pipeline.
Laura Giffard, founder and client director at Perq Studio says: "As a company with a conscience we are proud to give back, and Mike's Table provided the perfect opportunity for us to offer our skills and expertise pro bono.
The desire to bring people together in such a positive way feels very true our own ethos. Foodie culture is a huge part is London's life and it's great to work with a company that works towards inclusion and offering the opportunity to eat out to people who otherwise might not be able to.
We are very proud of the way that we have evolved the brand, maintaining its ethical origins but strengthening messaging to bring out the brand's foodie credentials and aspirational dining experiences."
Louise Holstein, founder of Mike's Table, says: "Whenever I receive new materials from Perq Studio it feels like a present in my inbox! Laura and Nikki's collaborative approach means that they truly listen to our needs, which is just one of the reasons we love working with them.
What makes their efforts even more special is that they have generously given their time and skills to Mike's Table free of charge."