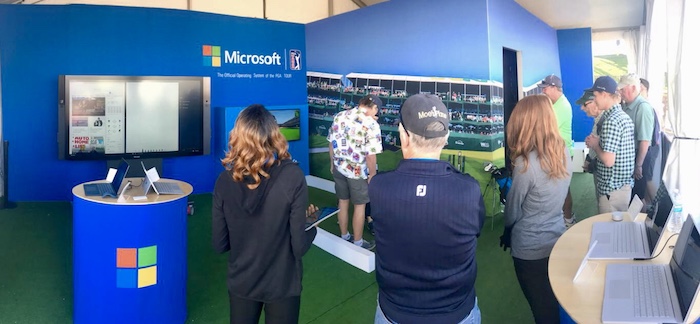 Provision Events  was commissioned by Eiger marketing to provide a Microsoft fan experience at the Waste Management Phoenix Open, which already held the record for attendance at a PGA Tour event. With 60,000 more visitors than in 2017, the party atmosphere, particularly at the notorious 16th hole 'Colosseum' reflected the diversity of visitors that spanned well past the normal confines of visitors to a golf tournament.
Simon Jones, head of sales & business development at PVE attended the event and comments: "For fans at the event I'd say that having fun came first and second with the golf in a solid third place!" he commented. "This is a unique event and right from the planning stages Microsoft appreciated that. They asked us to present their Windows 10 software and surface tablet technology in a way that every visitor to the event could enjoy. It was great to see fans trying the putting challenge regardless of whether they'd ever hit a golf ball and the sights in the 360 degree experience were something else!"
The activation was a fully branded 30m x 20m area, designed with PVE branding partner CSM Live. Fans could take part in a putting challenge, powered by Windows 10, on the infamous 16th hole before moving on to a 360 degree photo experience which used 24 cameras to create a unique image of the participant swinging a golf club or chugging a beer. A photo opportunity with the tournament trophy completed the activities which were then brought to life on Microsoft Surface tablets powered by Windows 10 and emailed direct via Outlook.