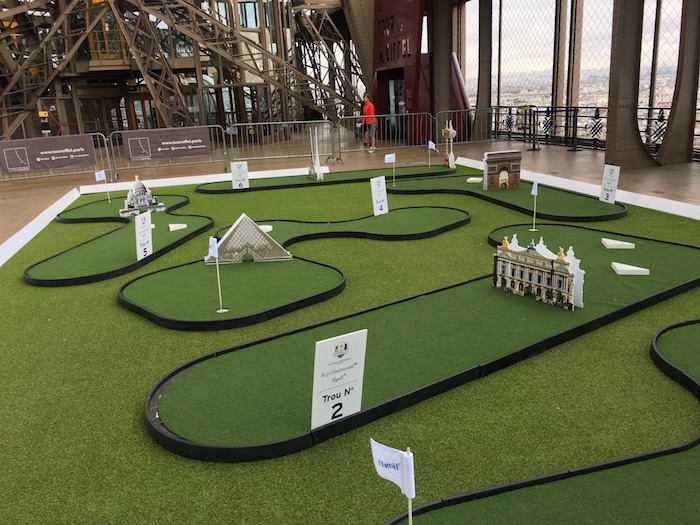 As the excitement builds around the 'Year to Go' Ryder Cup celebrations, the French Golf Federation has brought inProvision Events (PVE) to get visitors to the Eiffel Tower in the mood for the big event in 2018.
With the 'Year to Go' celebrations headlined by the  sight of team captains Thomas Bjorn and Jim Furyk hitting balls off the Eiffel Tower, PVE is playing its part in keeping the momentum going for visitors. For a week long celebration of the coming event, PVE has designed and installed a Famous Landmark putting course situated on the viewing platform of the Tower.
Nick Clemens, Founder of PVE explains, "It's always fantastic to be involved with the Ryder Cup, but to be up the Eiffel Tower helping to create a buzz about the coming event is really special. We were commissioned to create a memorable experience for visitors to the Tower and if my experience of it is anything to go by, people won't forget it in a hurry. The view from the office certainly won't often get better than this!"
The themed putting course sees members of the public putting their way around Paris. From the Eiffel Tower, past the Louvre, through the Arc de Triomphe and finishing up right next to the Ryder Cup, the putting tour of famous Paris landmarks is the perfect appetiser for the biggest team event in golf.
Olivier Denis-Massé, marcom director of the French golf Federation is excited about this landmark putting course on the 1st floor of the Eiffel Tower. "This is the first time the public will be able to play in such an iconic place. We're happy to give so many people the chance to try golf, know more about the Ryder Cup and keep golf in mind for the coming year. Maybe a winner of a next Ryder cup will get his first shot this week!"
PVE and the French Golf Federation are expecting thousands of visitors to experience the attraction over the week-long event and having experienced a tour of Paris half way up one of the world's most iconic landmarks, there's sure to be a few people booking a return visit to Paris in time for the Ryder Cup.