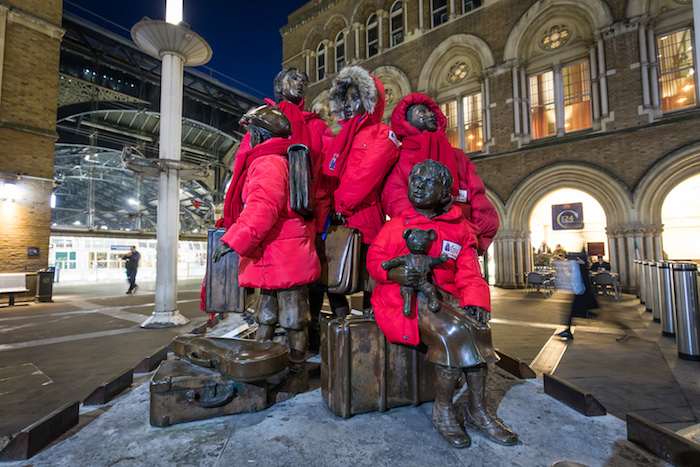 Charity and marketing agency team up to clothe landmarks for the launch of Wrap Up London, an experiential campaign aiming to reduce cold-related deaths this winter. 
Sense London, the experiential marketing agency, and charity Hands On London have come together to wrap up the city's most exposed residents – its famous statues – to launch the Wrap up London 2017 campaign and encourage Londoners to donate their old coats to those in need.
By 6 November, three iconic London statues in high traffic areas – Sherlock Holmes at Baker Street station, Amy Winehouse at Camden Market, and Kinder Transport at Liverpool Street station – will be adorned with bright red coats to raise awareness for the cause.
"A person's spare coat and your time cannot only help keep a person warm, it can also save their life," said Jon Meech, CEO of Hands on London. "Sense has created something groundbreaking for us, and we could not be more pleased with how they've helped us spread that message."
Whilst explaining the strategy behind the idea, Sense's Deputy MD Lou Garrod said: "We wanted to grab the attention of Londoners who are so often in head down mode as they travel through our city, and really get them to consider those who they probably walk past every day."
In 2016, nearly 23,000 coats were donated, but in the seventh year of the annual collection the number of people living in crisis in the city is sadly rising, particularly those who are young and homeless, so the need is even greater – especially when it comes to men's jackets.
That's why Sense London has teamed up with Hands On London under the agency's 'No Time to Waste' pledge; a promise to donate time, skill and resource to addressing real world, real people problems and raise awareness of truly important modern issues.
This year alone the agency's dedicated team have donated 230 hours volunteering under the scheme.
"Whether it's big concepts, little ideas, product innovations, or simply rolling up our sleeves – every spare moment goes towards the greater good," added Garrod.
The experiential campaign runs from 6 to 7 November, inspiring the public to donate their coats between the 13 and 24 November. Any coats donated will be passed on by Hands On London to those who need them most, including the homeless, the elderly, families in need, and refugee charities.