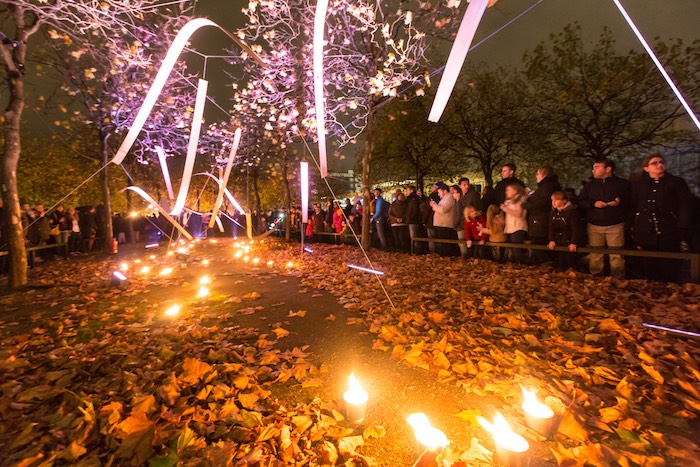 On Saturday 21 October, 10,000 people gathered in Milton Keynes city centre for Feast of Fire, an evening of fire, theatre, dance and music created by outdoor arts experts 'Walk the Plank'.
The event, part sponsored by centre:mk, featured memorable performances including drummers from the Dhol Academy, Indian dance from Pagrav Dance and the opening show of Spellbound, a large-scale shadow play.
People were guided along centre:mk's Midsummer Boulevard by fire and light from Walk the Plank's flaming torches, fiery braziers, fire-belching sculptures and candles alongside live music from cellist and guitarist Vania Dombrovsky.
Other installations and performances included Milton Keynes' MÓTUS Dance, a 'Fruits of the Fire' structure created by sonic artist Dan's Fox, and Stuart Moore's soundscape accompanying large burning sculptures. The line-up was complemented by street food traders, a People's Procession, fireworks and a DJ set.
Kevin Duffy, centre director at centre:mk commented on Feast of Fire: "We are proud to be part of such a memorable and successful event. The climax of the night was the announcement of Milton Keynes' bid to be European Capital of Culture 2023. The Feast of Fire was a unique celebration and the perfect way to round off the city's 50th birthday and look ahead to the city's future."