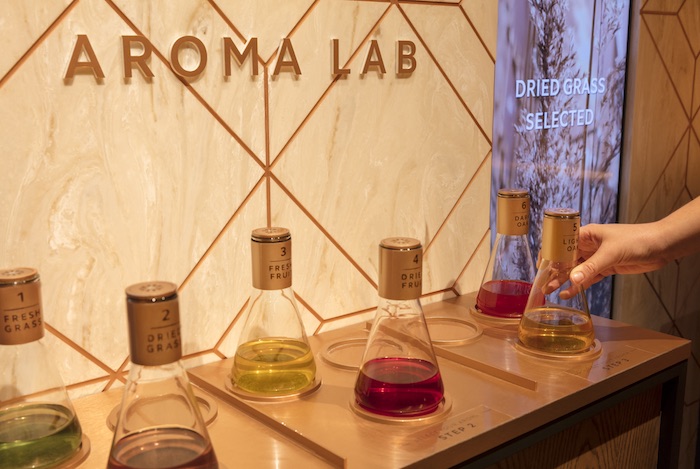 Purple Creative has produced a scent-based  whisky experience for Glenfiddich. Working in partnership with Harrods, the Glenfiddich 'Aroma Lab' invites shoppers to explore their palate and discover their perfect whisky by choosing their favourite scents from a range of bespoke fragrances.
The lab is a permanent fixture in the new Harrods Wine & Spirits Department, which has been unveiled after a multi-million pound refurbishment to resurrect the simple elegance and luxuriousness of its 1920s Art Deco heyday.
Purple has created many projects during a decade working with Glenfiddich, including the global brand identity, The World's Most Experimental Bartender Competition and a virtual distillery tour.
Research claims that up to 80% of what we 'taste' actually comes from our sense of smell. Inspired, Glenfiddich unlocked the power of whisky aromas to match the philosophy at the heart of its Glenfiddich Experimental Series.
Purple collaborated with Brian Kinsman, Glenfiddich malt master, and Emmanuelle Moeglin, founder & perfumer at the Experimental Perfume Club, a creative scent studio and micro-lab in London. Together, they created a series of fragrances that reflect, heighten and categorise the key aromas of Glenfiddich whiskies.
Gary Westlake, Purple Creative founding partner and creative director comments:"Our sense of smell is absolutely key to how we experience the world, particularly when it comes to what we eat and drink. It's been fascinating to see how much information people are able to discern from the fragrances at the Aroma Lab, and how successfully they can then be paired with the Glenfiddich expression most suited to their palate."
Scott Bird, prestige customer marketing manager, William Grant & Sons UK, adds: "The Aroma Lab adds to the list of great experimental projects that Purple has created with us, and breaks new ground for whisky! Coupling hard science with a very personal touch, it encourages people to pick out their perfect bottle of Glenfiddich, all in the beautiful setting of the new Harrods Wine & Spirits Department."
What happens at the Aroma Lab? The Glenfiddich Aroma Lab is an absorbing 10-minute experience that takes shoppers on their own personal sensorial journey using bespoke fragrances.  Guests choose their favourite scent from each pair of fragrances – everything from from fresh grass to earthy oak – and are presented with their personalised aroma profile and selection of two Glenfiddich whiskies, which they are invited to taste. As they nose each fragrance, floor to ceiling screens display evocative imagery