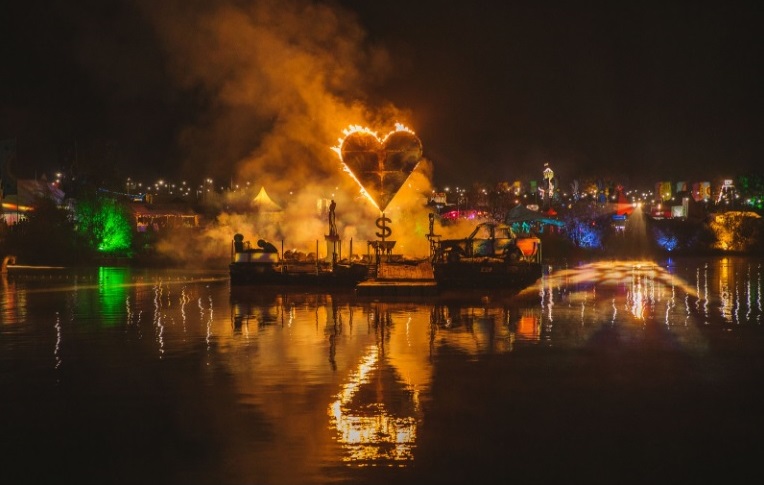 The last ever Secret Garden Party took place earlier this month; the independent arts and music festival held in Cambridgeshire drew to a spectacular close on Sunday 23th July. The theme was the death of celebrity in the age of excess and overexposure. Pyrite Creative's signature floating stage made a return as the event took a bow.
The elaborate mansion house design for the floating stage epitomised luxury and excess, and had a dance floor and space enough for 20,000 revellers. As with previous years, the whole structure was set alight amidst a firework finale. The blaze turned the design and the careful construction to ashes, with a clear heart burning in the centre.
Each year, the design of the dance floor remains a closely-guarded secret and is tied to the event's theme; previous designs have included a toy boat, the Emerald City of Oz and a sunken pirate ship. However, the challenge for the Pyrite team is not just to meet the Secret Garden Party aesthetic, but to also create a floating stage which will burn as part of a spectacular firework finale.
Pyrite implement creative installations at festivals, events and major retail stores; the mansion house was a prime example of their large-scale work and demonstrates why they are increasingly in demand with marketers and event organisers looking to make an impact.
Photo taken by Danny North