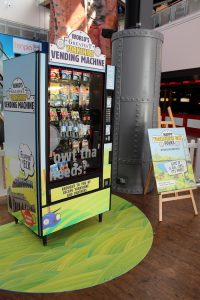 Leeds-based sports, leisure and retail marketing agency, Banana Kick, is celebrating Yorkshire Day with suitably themed campaigns for two of their Yorkshire clients; Plusnet and retail and leisure attraction Xscape Yorkshire.
As a marketing agency based in Yorkshire, Banana Kick is looking to support their Yorkshire clients by creating memorable customer experiences for the public to interact with.
Plusnet are an intrinsically proud Yorkshire company, so naturally celebrating Yorkshire Day was of great importance to them. Playing on the common stereotype of proudness in the region, Banana Kick developed a Yorkshire themed interactive quiz where users can find out which 'Yorkshire character' they are. With eight possible outcomes, users must answer a series of questions relating to their lifestyle habits and are given a 'Yorkshire character' at the end, which they can share with their peers.
Along with the interactive quiz, the public is encouraged to take advantage of personalised Snapchat filters relating to the eight personalities from the Yorkshire quiz.
To bring Yorkshire Day to life internally at Plusnet, Banana Kick will be heading to the Plusnet offices in Sheffield and Leeds with a spectacular gravy fountain and dipping condiments for staff to enjoy in celebration of great Yorkshire cuisine!
Based in Castleford, Xscape Yorkshire is an indoor retail and leisure centre packed with active entertainment, places to eat and drink, and specialist outdoor sports retailers. This Yorkshire Day, Banana Kick has created the 'World's Greatest Yorkshire Vending Machine'
Packed with Yorkshire themed goodies including well known food and drink from the region, the public will be able to visit the vending machine and take home a memento of Yorkshire.