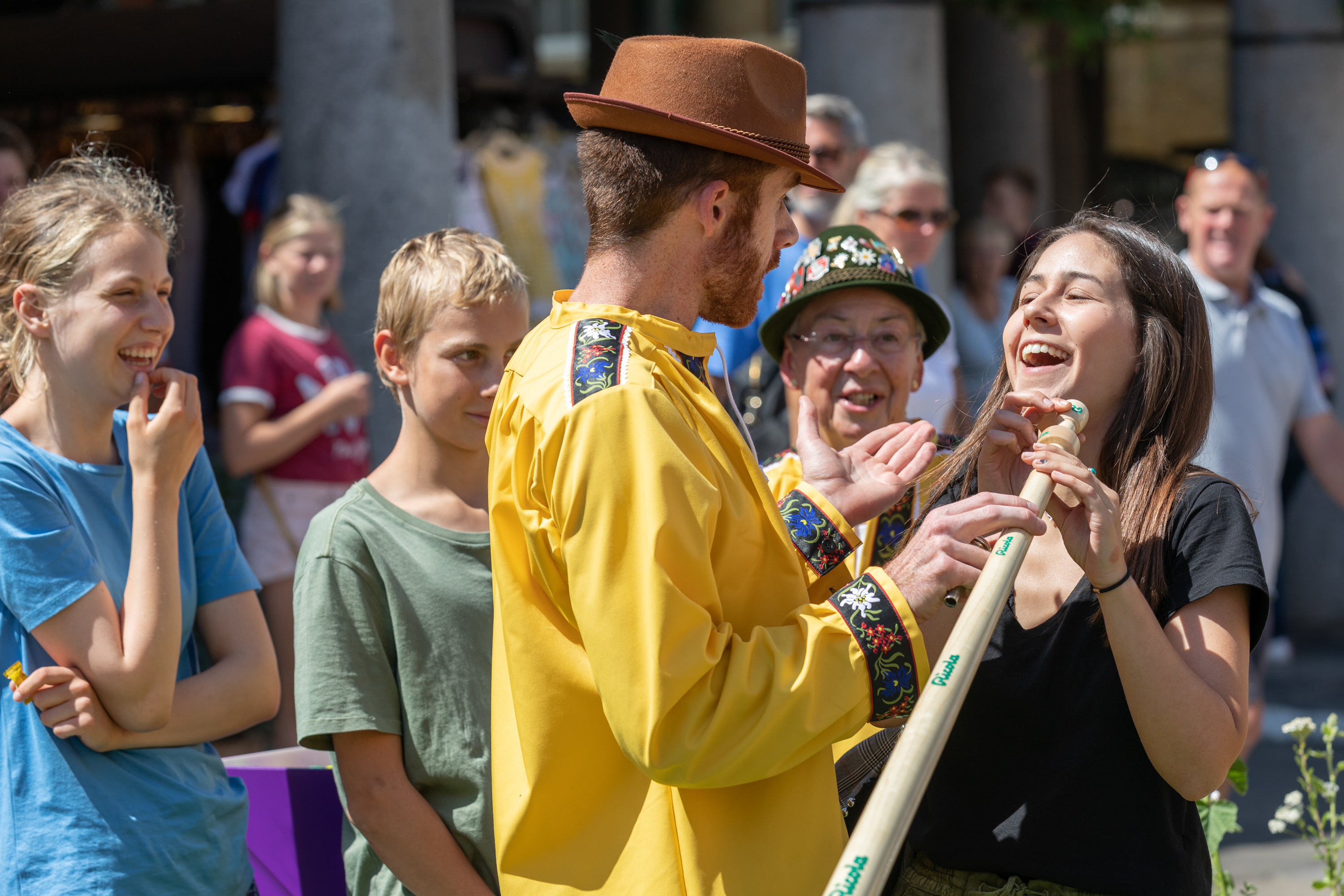 To celebrate Swiss National Day, on 1st August, Swiss herbal sweet experts, Ricola put on a performance  in central London, as part of their ongoing 'Be More Swiss' campaign.
Direct from the Swiss Alps to the West End, Ricola's most prestigious musical maestros showcased their finest alphorn skills in Covent Garden.
The Alphorn is a 3.4-metre long soft-wood horn, traditionally used to herd to cattle in the Swiss mountains. The professional alphornists played a mixture of both traditional Swiss tunes and some of the most loved tracks of the last 50 years.
Samples of Ricola's 11 mouth-watering, sugar free flavours we're also distributed to the Covent Garden crowds throughout the day, including Original Swiss Herb, Refreshing LemonMint, Delicious Elderflower and Tasty Cranberry.
Rebecca Collison, UK Brand Marketing Manager for Ricola, comments: "We're very proud of our Swiss heritage at Ricola, having grown herbs and produced our sweets in the Swiss alps for over 80years, so we've made it our mission to spread a little Swiss happiness throughout 2018 by showing Brits how to #BeMoreSwiss.
"Covent Garden proved to be the ideal backdrop for our alphorn performance on Swiss National Day and we're thrilled with the public's response to our alphorn players and, of course, our sugar free sweets."
Ricola launched their 'Be More Swiss' campaign earlier this year, after Switzerland was voted one of the happiest countries in the world for the seventh year running*. Spanning PR, experiential, social and paid media, Ricola's #BeMoreSwiss campaign encourages Brits to learn from the Swiss, borrowing life and wellbeing skills from those that do it best.
AmazeRealise were behind the activation which was supported by Ministry of Fun and Noise.