RPM have been reappointed by Cadbury to create and deliver the brand's largest ever Easter weekend experience in partnership with the National Trust and National Trust for Scotland.
These events are the culmination of Cadbury's £6 million 'Bunny's Been Busy' Easter campaign which has seen the classic Cadbury purple egg pop up at famous landmarks surprising locals all over the United Kingdom.
RPM have developed all experiential elements of the campaign; kit design, production, staffing, and digital integration including the co-management of cadbury.co.uk/easter. The wider campaign will be supported by social media with the hashtag #eggseverywhere.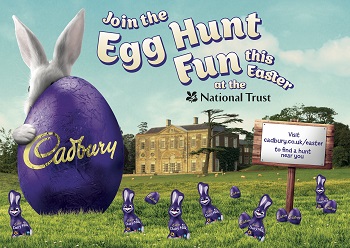 The creative concept has been delivered to ensure each National Trust and National Trust Scotland location is able to design their own personalised Easter Egg Hunt taking into account the unique stories of each property. Offering themed hunts to encourage a personalised, educational and engaging experience for visitors intended to encourage patrons to visit more than one of the sites over the weekend. Themes include waking Sleeping Beauty from her slumber at Stowe and discovering the secrets of gravity and light with help from Sir Isaac Newton at Woolsthorpe Manor.
Last year saw over 270,000 people partake in a Cadbury Easter Egg Hunt, with over 3 million people visiting National Trust places over the Easter weekend. Cadbury, National Trust and National Trust for Scotland hope for similarly impressive attendance figures this year.
Pawel Ozierski, senior brand manager – Easter from Cadbury said: "We are very pleased to be working with RPM for a third consecutive year. The Partnership between Cadbury, National Trust and National Trust Scotland is a very important part of our Easter campaign. This year's Easter theme 'Bunny's been busy' has been strengthened by the opportunity to supply our new Hollow Bunnies and Easter fun to hundreds of locations all over the nation. It has reinforced Cadbury as the leader of Easter egg hunts and the brand of choice for this time of year." 
Dom Robertson, managing director at RPM added: "We are delighted to be working with these two much loved British brands for a third Easter in a row. It's hard to think of a brand that is more synonymous with Easter; therefore to bring its brand purpose to life across the UK is a real privilege. Creating great experiences is at the heart of what we do and we hope this year's event continues to build on the great success of previous years.
There will be 319 events at National Trust and National Trust for Scotland properties around the UK over Easter weekend.  Such visits over the Easter period are key to the conservation charity, enabling the charity's continued conservation work