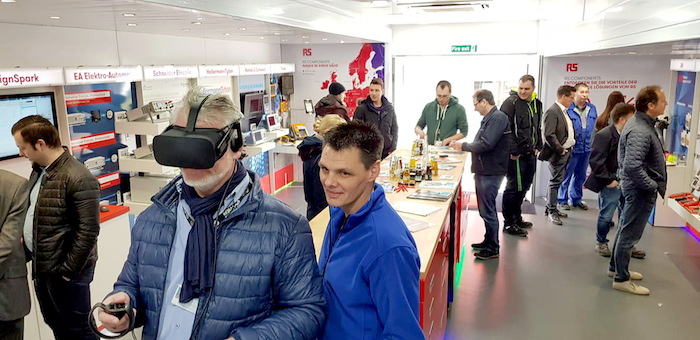 Following on from a successful tour of the UK, RS Components (RS), the trading brand of Electrocomponents plc (LSE: ECM), a global multi-channel provider of industrial and electronic products and solutions is bringing together products from its world-leading technology partners, with the launch of an extensive roadshow across Germany.
Managed by global roadshow expert Event Marketing Solutions (EMS), the tour will deliver an immersive and memorable experience to key customers and educational facilities across the country in the coming year.
As well as managing the scheduling and operation of the tour, EMS has provided further support to the leading global distributor with a bespoke truck design and fit-out, tailored specifically to RS Component's needs.
Features of the truck include a virtual reality (VR) experience, telling the story of RS Components, as well as 15 alternating interactive displays. Each of these showcases products from different major brands such as Raspberry Pi, Siemens, 3M and Design Spark, giving visitors the chance to get face-to-face with world-leading innovations.
Thanks to EMS' high-tech design, the products and brands on display are interchangeable, meaning even more brands will be able to join the tour throughout the year. These new additions can be added remotely from the RS Components German HQ.
James Howarth, head of education strategy EMEA at RS Components, said: "With this roadshow, we're looking to get our customers hands on with world-leading technology and products, through delivery of a highly immersive and engaging experience. Not only are we showcasing the latest products on offer, but we have expert brand representatives educating visitors on the newest innovations face-to-face – forming an intimate connection with key target audiences and creating brand advocates along the way.
"At RS Components, we always strive to engage with our customers directly – they are the people shaping the future, and it is our mission to help them realise their big ideas."
James added: "EMS has provided RS Components with the perfect gateway to target markets across Germany. Their expertise in the region made them the obvious choice to partner with for this tour and will allow us to bring that personal touch to our customer outreach."
Keith Austin, CEO and Founder at EMS, said: "As the manufacturing capital of Europe, Germany has a great appetite for the most innovative equipment available on the market.
With extensive distribution capabilities and an exceptional catalogue of products, RS Components are well-placed to serve this growing demand.
"RS are bringing businesses together in a new and innovative approach that takes marketing beyond anything we have seen before. There's no doubt that we will start to see more businesses working with suppliers in this collaborative way as the benefits to sales are second to none. Supplier uptake so far has been incredible, which I think says it all!
"The team have enjoyed a successful launch period and can now look forward to getting out there and meeting even more customers face-to-face."