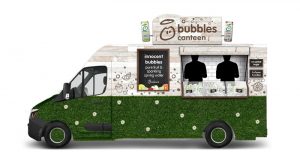 Following its recent launch, innocent Bubbles, a new lightly sparkling blend of pure fruit juice and spring water, will be introducing Londoners across the UK capital to its three flavours, Lemon & Lime, Orange & Lime, and Apple & Berry.
A branded vehicle, the innocent Bubbles Canteen, will provide the focus of the campaign, which will start on Monday 18 September on Electric Avenue in Brixton and tour London for 18 days up until Sunday 7 October.
"We'll be educating consumers about new innocent Bubbles and distributing over 300,000 cans," explained Anne Ellefsen, senior account manager at real world marketing agency Sense, which is running the campaign.
"With such a new and original product, it's great to get people trying it first-hand so they can taste how perfect it is with lunch or as a tasty afternoon treat, and pass their experience on to their friends and relatives by word-of-mouth."
Commenting on the campaign, Jamie Sterry, brand strategy and activation UK for innocent, said: "At innocent we're committed to helping people live well, through what we make but also what we do. The innocent Canteen is an example of this as it gives drinkers the chance to try one of our new refreshing innocent bubbles during their busy day."