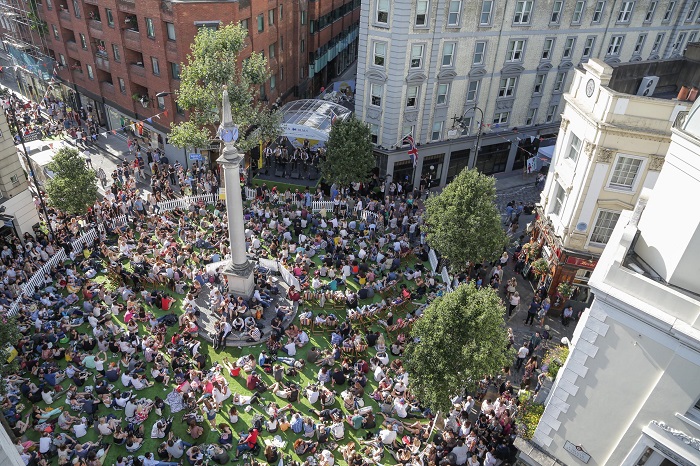 Shaftesbury has announced the 2017 calendar of events taking place in Seven Dials. The location will host four free one-day events over the course of the year. Each individual event will be accompanied by an extended in-store and online campaign.
Launching on March 8, Seven Dials will celebrate International Women's Day with a ticketed 'in conversation with' event streamed via Facebook Live, to champion the women that have inspired change and success in fashion, food, journalism and dance. Discounts and offers will be available from over 20 Seven Dials stores and restaurants, as well as free workshops, between Monday, March 6 to Friday, March 10.
Later this summer, Seven Dials will once again host its 'Style Saturday' shopping event, on June 10, from 12- 6pm.  The traffic free shopping & leisure event will be linked to London Fashion week Mens and include activities on the streets of Seven Dials, including discounts at stores and restaurants, as well as live music and street food. In-store experiences including makeovers, styling sessions, and workshops as well as fashion and lifestyle talks from Evening Standard and London Fashion Week Men's will add to the street party vibe.
'Spotlight' will be held on August 19.  This will be the fourth time the event has supported the importance of the cultural scene within Seven Dials. The  festival, held from 12-6pm, will feature live on-stage entertainment from music, comedy and dance.  Seven Dials will be pedestrianised to allow guests to relax and explore the area and additional experimental activity with a pop-up lawn around the Dial.
November 16 sees the Seven Dials Christmas Launch and Shopping Party. The annual festive event will include the official Seven Dials light switch on, as well as 20% discount shopping & dining offers in the run up to Christmas.
Karen Baines, head of group marketing & communications at Shaftesbury, said: "Hosting these events at Seven Dials attracts a huge number of visitors and are real celebrations of fashion, culture, food and leisure. This year, we are thrilled to be introducing our International Women's Day event as well as welcoming back the hugely popular annual seasonal shopping days and Spotlight festival."
Chris Gottlieb, chief marketing officer at VisitLondon.com, adds: "London is one of the most popular cities in the world, thanks to its unparalleled cultural scene, history and shopping offering.  Seven Dials, with its charming streets, is a major point of interest for visitors to London and the events organised by Shaftesbury will put a spotlight on the area's fantastic boutiques and restaurants, as well as attract thousands of visitors."