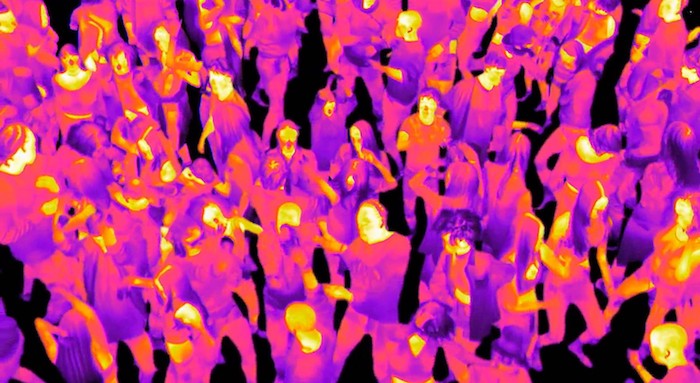 One of the UK's largest suppliers of mobile WiFi services has unveiled its latest foray into the world of event's technology with the launch of its  heat mapping technology.
SimpliWiFi's new service makes use of conventional CCTV and thermal imaging cameras to find hot spots in crowds during festivals in order to aid events organisers.
Hot spots can indicate where a crush might be likely to occur and the technology  can spot a person on the ground at night or in bad weather, allowing security and paramedics to aid an injured guest.
Launched at the Event Production Show, the service has already been trialled at a number of events in 2017 and is now available for hire in 2018.
Heat mapping data powered by SimpliWiFi suggests that organisers may be making fundamental errors by posting stewards in the wrong places.
Heat maps gathered from test events suggest that problems often occur in the middle of a crowd and if stewards had access to technology capable of delivering real-time information on high-risk incidents, they could be quickly deployed to defuse or save a potentially harmful situation.
Ozan Pakyuz, managing director at SimpliWiFi, said: "While the foundation of our business is based upon the provision of high-speed WiFi and telephony at major events, we have decided to branch out in this new direction based upon our experience of attending festivals and concerts around the UK.
"It is disheartening to see large crushes or injured people at these events when people have come along to have fun. We knew that something more could be done, which is why we have teamed up with a leading provider of thermal technology to develop this new system which works in a variety of conditions."
He added that the technology had a number of applications outside health and safety as well, that event organisers, retailers and disaster recovery specialists would find useful.
"Using heat mapping we can spot where people might be in distress in a crowd, but the technology can also be used to spot where the largest number of people are standing or high areas of footfall so that stands and mobile sellers can target these areas," said Ozan.
"Outside of a festival environment, the data and images could also be used by rescue teams searching for bodies or sources of heat. With so many applications out there, we are really hopeful that this new technology will take off."