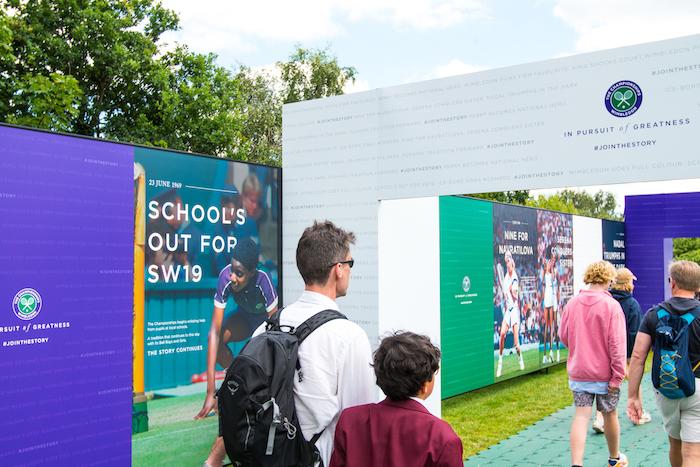 The All England Lawn Tennis Club (AELTC) has launched a new Wimbledon Arrivals out of home (OOH) campaign, developed by creative agency Space that demonstrates how the world-famous tournament respects its past whilst embracing its future.
"The Story Continues" campaign runs throughout The Championships and links historic moments in the tournament with era defining events, such as the introduction of colour TV and the last British men's Wimbledon champion. The work builds on the recent global film, created by McCann London.
The OOH campaign, which welcomes thousands of tennis fans to SW19 and builds their sense of anticipation and excitement for the day ahead, includes takeovers of the Southfields and Wimbledon train stations as well as the famous Wimbledon queue. Thirty touchpoints are covered with a variety of imaginative outdoor formats conveying the message, including 6 sheets, canopies, stairwells, directional signage, arches and selfie panorama walls.
The Wimbledon Queue will feature extensive imagery relaying 10 iconic Wimbledon stories that demonstrate how The Championships never stand still, on court or off. A massive 37m poster will also adorn the side of Court 12.
Creative treatments include Fred Perry, the last British men's champion before Andy Murray, and posing the question "Will there ever be another?", as well as such future facing innovations as Wimbledon being the first UK TV colour broadcast, right up to the closing roof on No.1 Court – one of the AELTC's most ambitious engineering projects, which was finished this year.
James Ralley, head of marketing and commercial, AELTC, said: "Wimbledon has had 150 years of amazing history which we are always eager to share with our guests. This year's Arrival campaign is a reminder of the fact that as much as we cherish the past, the AELTC has always looked to the future, and we hope that this will serve us well for the next 150 years. As one of the world's most iconic sporting tournaments, we will continue to be part of an unfolding story for years to come."
David Atkinson, managing partner, Space, said: "People see Wimbledon as a constant, quintessential English summer sporting event. While that is true, it has also evolved both as an event and as a mirror to society, which is what this year's campaign represents. The tournament has always tried to preserve the best of the past, while constantly striving to improve and introduce innovation. As this is Space's ninth Wimbledon Arrivals campaign, that is a message that we take to heart as we look to refresh what we do each year.
"In reflecting some amazing moments, we want people to get goose bumps when they're at Wimbledon, capturing the feeling that anything can happen, and they can be witnesses to history."