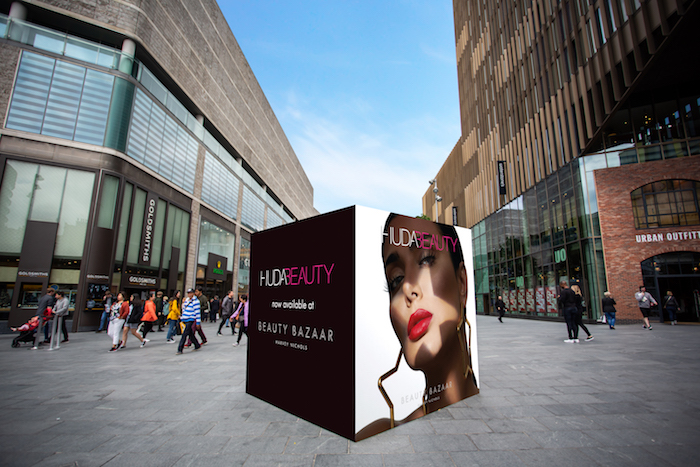 Ice made the launch of the exclusive Huda Beauty range at Harvey Nichols Beauty Bazaar in Liverpool One a thing of beauty.
The task was to create an impactful launch activation that would drive customers into store to the new Huda Beauty counter. Ice's answer was to give both the store and customers a vibrant makeover.
In the heart of Liverpool One and near to the store, Ice built a selfie cube, a backdrop for customers to pose, click and upload their pics to #HudaBeautyxHN. The Huda Beauties encouraged customers to download the Harvey Nichols Rewards app and with a Rewards download or social post customers received a scratch card and won a prize to redeem in store.
Customers followed a trail of lamp post signs to the Beauty Bazaar with its Huda Beauty make over take over, with statement lips in iconic 'Power Bullet' shades dotted over the store windows, pops of colour against a glow of pink light, along with exterior signage to ensure Liverpool knew that Huda Beauty has arrived.
Lip floor vinyls led the way, leading customers into store, to experience areas on the First Floor, and then to the new Huda Beauty counter.
First stop was a showcase of the Power Bullet lipstick against an Instagram worthy backdrop designed to look like the Power Bullet packaging, a lightbox, branded Directors chairs, wall vinyl's and stylish product plinths. Huda make-up artists were on hand to introduce customers to the beauty brand and colour match.
Next the eye-catching lash bar where customers could have their Huda lashes applied by the professional artists.
In the third experience area, Ice used logos and lips, to make over the Studio where customers could try out the brand's best sellers and book in for a Huda Beauty makeover. Finally, more lips vinyls led the way to the new Huda Beauty counter where they could purchase product and receive a lip-smacking treat, a lip shaped lolly colour matched to the Power Bullet palette.
The event was deemed a success and client feedback was incredibly positive.