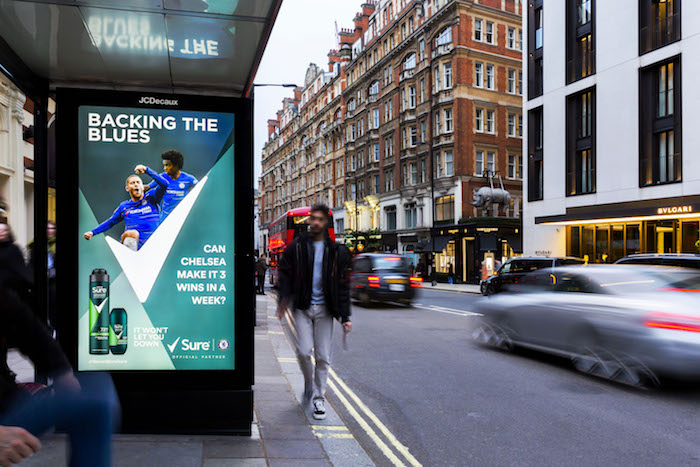 This season, Sure Men,  joined forces with Kinetic Worldwide and DOOH.com to create a dynamic and responsive DOOH campaign focusing on key fixtures for the brand's football partner clubs; Chelsea, Manchester City and Everton.
Powered by DOOH.com's RUSH platform the creative campaign targeted football fans using club and player IP amplifying insightful match stats in the lead up to kick-offs, exciting fans whilst simultaneously promoting the brand's new Sure Advanced Protection product.
Nearly 20 key matches during the season were identified and bespoke creative assets were produced to support each calendar moment. The assets were distributed across locations surrounding stadiums and in high-footfall city positions ensuring target audience penetration.
Locations were set live two days prior to each game with updates running on the match day itself, enabling Sure to deliver contextually relevant advertising surrounding the game based on live data and statistics. By utilising RUSH's hyper-reactivity, the campaign creative was responsive to live club news including team updates and selection, as well as other instant data announcements, ensuring ads remained relevant and in-line with fan sentiment during the campaign.
Katie Dunn-Sims, Assistant Brand Manager Sure Men said, "The campaign aimed to bring the pre-match excitement of our partner clubs straight to fans, whilst showcasing our new Sure Advanced Protection product. The RUSH technology enabled us to react and help Sure Men remain a credible voice within football, utilising our club and player partnerships."
Alfie Griffiths, Producer at DOOH.com said, "This is a great example of using dynamic technology to contextualise on-screen copy in real-time, driving deeper engagement with a highly targeted consumer-base in proximity to key stadiums and travel hubs. A great project team and a pleasure to manage."
Throughout the season, the campaign ran across over 700 individual panels ahead of high-interest Premier League, European Cup, Europa League and FA Cup games for Sure Men partners Chelsea, Manchester City and Everton.
The activation is part of Sure Men's ongoing 'Movement is everything' campaign in football, to get people to move more through inspiring football content.