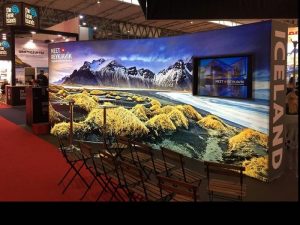 Tecna Display recently worked with event consultants Recon to create a display for 'Meet in Reykjavik' at IBTM World in Barcelona, Spain, using the T3 System and Wandlite.
IBTM is the global event for the meetings, incentives, conferences, events and business travel industry and Meet in Reykjavik is the official convention bureau in Iceland for Reykjavik and its surrounding areas.
The 58sqm promotional stand included a 5.5m long, 2m wide and 2.5m high display framework designed with a unique sweeping curve on one face. Recon used the UK-manufactured T3 modular display system's channel and fusion profiles to create the framework, with the revolutionary Wandlite LED tube system for illuminating graphics.
The design called for a variety of custom curves and this was made possible due to the T3 System's ability to create unique and stunning curved structures.
The stand's two large sides were each wrapped with a single graphic. By printing the graphics onto UV backlit fabric, Recon designed the entire stand to be backlit using Wandlite LED tubes.
Adalsteinn Sverrisson, managing director of Recon said: "We used the Wandlite for our backlighting because it gives us the greatest versatility when it comes to these sorts of projects. The light that it provides is bright white, 360 degrees and very easy to power – and with it being almost unbreakable and it's safe to ship, which is ideal for on-site installations and unconventional locations."
The brief for the stand also called for two large display monitors to be incorporated showing promotional videos, plus a functional custom door at the side of the display which allowed for staff to use the display as storage space. These features were incorporated into the stand using Tecna's monitor support brackets and its array of custom doors.
The stand was assembled by two members of the Recon team in under two days, including the installation and mounting of the display monitors, lighting and graphics.
Adalsteinn continued: "For this event brief, logistics were key for us. We and our client are both based in Iceland, so we were designing and pre-building in Reykjavik and then transporting to the show in Barcelona. We needed to be able to break down the stand into small units for easy shipping, so the system needed to have optimal flexibility and versatility without losing any of its display potential. The T3 System offers all of this to us and we were very happy with the result. The stand was also partially used by the client at another event of theirs in Iceland, which is a fantastic testament to the versatility and reusability of a stand created with the T3 System."
Mukesh Kansara, senior designer for Tecna Display added: "The clean finish and vibrant graphics created by Recon were stunning and the inclusion of the custom curves to one side made it a very unique and eye catching display. Recon continues to do clever and stunning work with the T3 System."