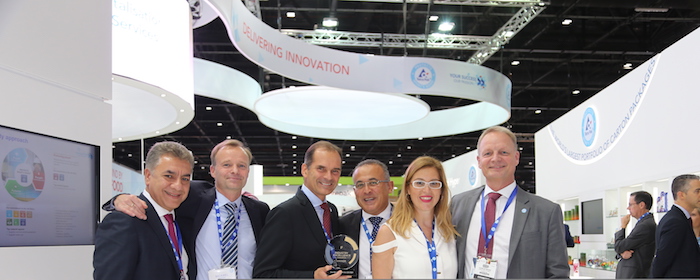 Tetra Pak won the "Best Stand Greater than 200sqm" award at the Gulfood Manufacturing 2017Industry Excellence Awards.
The mega structure, designed and delivered by full-service event partner GES, was a total of 700sqm, with four interactive visitor areas. The stand had several eye-catching features, including a 9sqm LED wall displaying augmented reality for the Tetra Pak® E3/Speed Hyper filling machine and Tetra Pak Marketing Services – – for which GES provided creative direction and production of the visual content and interface.
The space was equipped with virtual reality technology, three meeting rooms and a hospitality and lounge seating area for 112 people. The dedicated marketing services area included an exclusive 'mixology' lab serving tailored drink recipes, as well as a sample bar area inclusive of the display wall.
Gulfood Manufacturing 2017, held at the Dubai World Trade Centre, attracted more than 35,000 people and the Tetra Pak stand hosted more than 1000 visitors over the space of three days.
Khaled Ismail, vice president communications MEA, Tetra Pak, said, "With our largest ever presence at Gulfood Manufacturing this year it was vital we selected an event partner that could embed themselves in the Tetra Pak brand, meaning we could work together as one team.  Attitude is key to a successful partnership, and GES worked tirelessly on the design and delivery."
Jo Webber, commercial director, GES Middle East, said, "We are honoured to work with Tetra Pak as their face-to-face marketing partner for their flagship event in the Middle East. Events like this are massive undertakings and a testament to what GES does best; reliable execution down to the smallest detail and offering expert exhibition insight to guarantee a successful event."