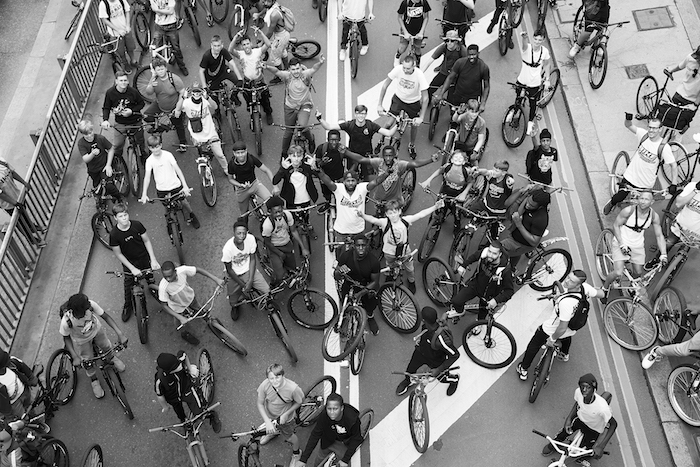 Internationally renowned US sock brand, Stance, has hosted the launch of the BikeStormz Photography Exhibition, in collaboration with photographer Adam Corbett at the brand's debut store in 3 Neal Street, within the Mercers' estate.
Running from August 9-15, the photography showcase comprises Corbett's long-standing documentation of the BikeStormz youth movement since its formation in 2015. Operating under the mantra 'knives down, bikes up', BikeStormz provides an alternative to violent crime, while encouraging positivity and peace amongst young people. The exhibition at Stance celebrates this unified message, the distinct characters and the sense of togetherness that this bike culture brings to the community.
Simon Taylor, property director of The Mercers' Company, said:"We are always looking to bring exciting new dimensions to the Neal Street experience, which Stance is continually delivering with its dedicated gallery and event space. The brand's creativity and commitment to the community is a huge benefit to the Mercers' estate and we are proud to support both Stance and BikeStormz in this meaningful endeavour."
Rich Philip, director of marketing at Stance Europe, added: "Following our exciting conversion from a pop-up to a permanent tenant in this space, and the huge success of our first exhibition earlier this year, we are thrilled to launch BikeStormz to the Stance community in central London. BikeStormz is a brilliant social enterprise and we are proud to host Adam Corbett's latest work."
This event follows the news that the internationally renowned New York dance shoe brand, LaDuca, has signed for their first UK site at 37 Drury Lane, Covent Garden and that luxury British footwear and handbag retailer, Russell and Bromley, will be launching a new 3,461 sq ft London store at 107 Long Acre, Covent Garden, this autumn.