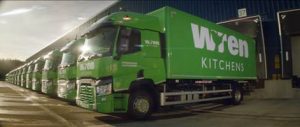 Tribal Worldwide London has announced the launch of an integrated campaign for kitchen retail specialist, Wren Kitchens.
The ad, entitled "your kitchen, our heart and soul" reflects on Wren's unique business model – owning the end-to-end process from design through to fitting. Darren Savage, chief strategy officer, Stuart O'Neill, creative director and Will Gibb, business director at Tribal Worldwide London, led the strategy, creative and business teams respectively.
The creative was shot by Emmy award-winning Director Matt Piedmont and shows off Wren's state-of-the-art manufacturing facility in Barton –upon –Humber and the new in-store experience.
The ad will run for a six-month period and will be amplified on social media, radio and instore. It is Tribal's first brand campaign for Wren Kitchens following the account win in July.
Stuart O'Neill, Creative Director, Tribal Worldwide London, said: "We've really enjoyed working on a campaign that focuses on care, craftsmanship and the obsession that the guys at Wren genuinely have for their kitchens, with a little bit of fun thrown into the mix.
We were keen to do something different and steer clear of the homogenous clichés that dominate this space  and position Wren Kitchens to be the growing market leader in kitchen retail."
Richard Walker, Marketing Director, Wren Kitchens, said: "We have worked closely with Tribal to align our creative output with our core values. Tribal has been able to effectively portray Wren's ethos of quality and craft whilst also adding a light-hearted and comedic tone."