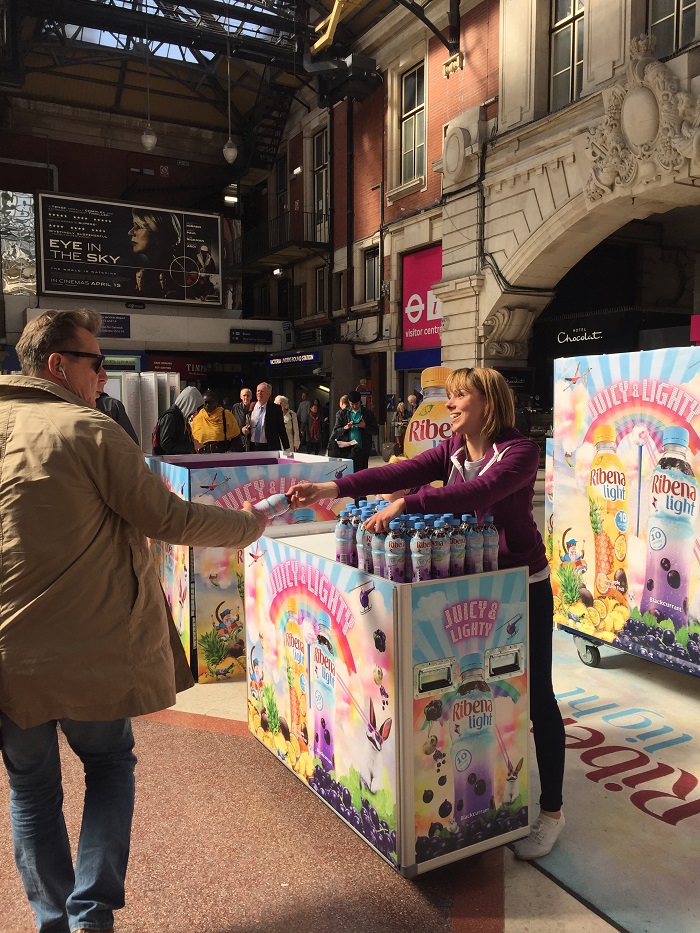 TRO and Ribena are currently half way through a nationwide train station activation, targeting daily commuters by handing out juicy bottles of Ribena Light.
Kicking off in April, a burst of activity saw Ribena Light distributed at busy London train stations, before moving on to Leeds, Manchester and Liverpool.
A second fortnight of sampling activity will take place in July, with a focus on the Midlands and Scotland.
The fast-paced activity heroes the no added sugar Blackcurrant drink and the new Pineapple and Passion Fruit Light option that Ribena have recently launched. They key message being that consumers need not compromise on taste when choosing a reduced sugar option.
Georgina Thomas, Marketing Director of Ribena comments:"By focusing on getting our great tasting liquids into consumers' hands, the key objective of Ribena's sampling activity was to prove to consumers that they do no need to compromise on taste when they select  one of Ribena's no added sugar drinks. Our focus on NEW Ribena Light Pineapple and Passion fruit and existing favourite Ribena Light Blackcurrant demonstrates our commitment to reducing sugar whilst maintaining Ribena's unique, much-loved, fruity flavour. Through a bold and impactful creative, consumers are able to easily identify these great tasting drinks when searching shelves."