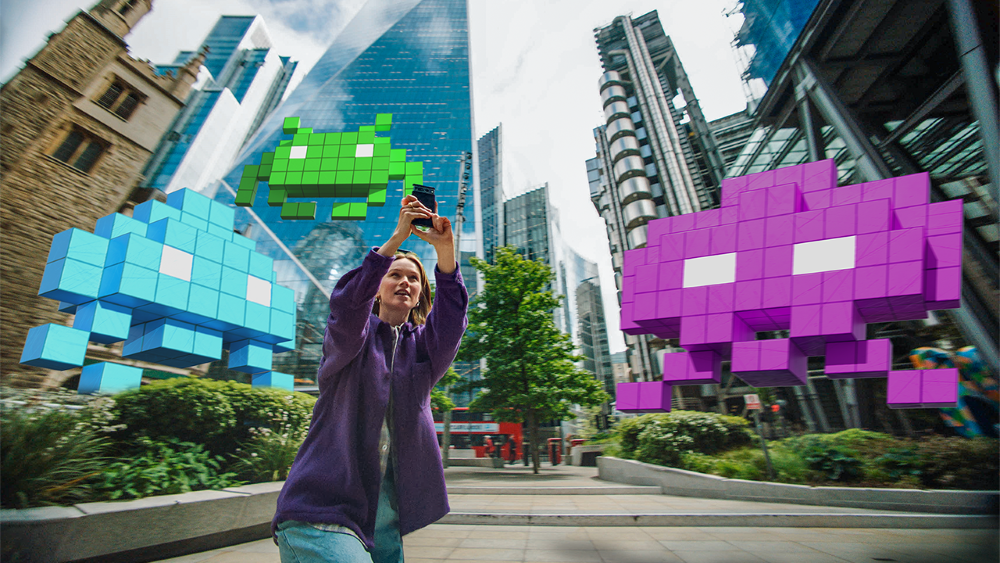 Taito, in partnership with Google, has worked with global production and innovation studio Unit9 to reimagine the iconic arcade game "Space Invaders" for today's digitally-connected world. Forty-five years after its initial launch, the 8-bit game has now been evolved into an immersive augmented reality experience where players put their skills to the test to defend their real-world neighbourhoods from 3D Invaders appearing from buildings and landmarks near them.
Acting as a sequel to the original arcade game, "Space Invaders: World Defense" uses Google's innovative ARCore Geospatial API. The API allows digital content to be anchored in the real world with sub-metre accuracy, using an individual's physical surroundings. It works in conjunction with a mesh of geometric data tied to Google Maps Street View, resulting in an interactive AR gaming experience anchored to the physical world on a global scale. In addition, the game leverages the newly released Streetscape Geometry API, which provides the geometry of terrain, buildings, or other structures within a 100m radius of the user's current location. This allows Space Invaders to emerge from buildings and nearby structures.  
By switching from World Dimension to Invaders Dimension, players can activate a pure digital 3D level, transitioning from the real world via a portal. This parallel digital environment is dynamically generated based on their surroundings, allowing players to complete missions in a fully virtual 3D Invader world as well as their real world AR view.
The classic Invader characters from "Space Invaders" make a major comeback in "Space Invaders: World Defense." The original arcade game's mechanics served as inspiration for the new AR version, with players attempting to achieve the highest score possible and avoid losing all their lives. However, new elements of "Space Invaders: World Defense" include exciting additions like updated weapons, music, sound effects, and gameplay that adapts in real-time to location-specific weather patterns and nearby buildings. New power-ups and shooting elements make the gameplay exciting for multi-generations of players  – from those who remember the arcade game to those who are discovering Space Invaders for the first time. Despite the new adaptations, Google, Taito, and Unit9 upheld nostalgia as a core value in creating this enthralling new version to ensure it appeals to original and new fans alike.
Unit9's Head of Digital, Media Ridha
, says: "The launch of Google's Geospatial API truly marks the beginning of an exciting new era for real-world location-specific digital activations – not just for gaming, but for any brand experience tied to a geographic location. It was an honour to work with Google and Taito to translate one of the most famous IPs out there into the next wave of AR gaming and create an experience that fans of all ages around the world can enjoy."
Matthieu Lorrain, Global Head of Creative Innovation, Google Labs Partnerships
, says: "Google's Geospatial API brings a whole new dimension to immersive experiences.  It allowed us to celebrate the iconic Space Invaders game by turning the world into a global playground. We are excited to see more developers utilise our platform to push the limits of geolocalized experiences."
"Space Invaders: World Defense" launched on July 17, 2023, and is available for download to mobile devices and can be played globally in key markets, including Europe, the USA, and Japan.