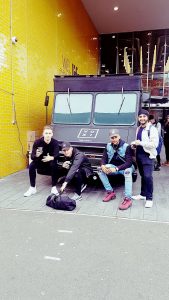 Voxi, the UK's first dedicated youth mobile offering, has chosen Seed to devise and deliver a student ambassador programme that quickly establishes brand awareness amongst the UK's university communities.
Launching on 25 September at Manchester Metropolitan University and running across the length and breadth of the UK until the end of October, the programme builds awareness and drives sales through a range of activities, experiential as well as digital.
Bringing to life Voxi's 'Endless Possibilities' proposition, which is based on the brand's endless social data offer, the first term's activity focuses on the Voxi Pick Me Up Truck. The Truck will offer freshers free barista-style coffees served in cups with attached Voxi SIMs, which can be unlocked to unleash endless possibilities. The coffees will be personalised to feature stencils of each student's favourite emoji.
The second term see's the launch of the Voxi Shorts platform, a digital hub that allows students to film what the brand's proposition of 'Endless Possibilities' means to them. The platform's content will be amplified through a voting system that ensures contender films are pushed out via entrants' peer-to peer-networks. Prizes include creative bursaries of up to £5,000 and a chance to spend a day with one of Voxi's 60 creators, who make up a community of young artists, filmmakers and designers from across the UK.
These high-impact Voxi activities are supported by a year-round student ambassador programme: always-on campus promoters will spearhead exclusive referrals designed to drive excitement and conversion across major UK universities.
In addition to devising Voxi's student ambassador programme, Seed has also been tasked with establishing a similar programme for staff aged 25 and under within Vodafone.
Daniel Lambrou, Head of Voxi, said: "We created Voxi, a transparent new mobile service that gives our audience a platform to connect to the things that matter to them, whatever they're into. Seed has created a unique ambassador programme that will bring Voxi to life on campus and engage with students in an authentic way."
Seed's Founder and CEO, Celia Forshew, said: "As a completely new brand, we needed to establish awareness quickly but authentically. Fortunately, Voxi's brand and proposition is spot-on for this market and the team at Voxi have really allowed us to design the perfect programme for helping them reach their ambitions."