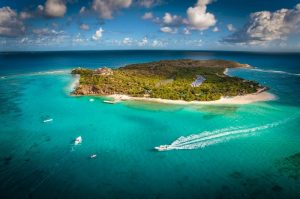 Extreme Tech Challenge (XTC) has announced the return of Zoom Video Communications, Inc. to the 2018 XTC Sponsorship Series.  Zoom will be the  official sponsor and judge of the Productivity Vertical for XTC 2018.
XTC 2018 marks the fourth year of the competition that brings together the world's brightest entrepreneurial minds to compete for the chance to pitch their budding business ventures to an panel of judges on Sir Richard Branson's Necker Island. Zoom will be returning for it's second year as an invaluable member to the team of global sponsors who will be on hand to guide and support this year's applicants as they compete in the Tech Challenge of their lives.
"Zoom is proud to be a second-time partner of XTC. We had a great experience sponsoring the Productivity vertical last year, and we're excited to support this group of world-changing entrepreneurs again. Zoom helps teams be more productive with high quality video meetings and powerful collaboration tools, and it's a pleasure to support other productivity innovations by promising startups."
As part of their sponsorship, Zoom will offer free accounts to lauded competitors in the contest, with Head of Marketing Janine Pelosi representing Zoom as an XTC 2018 judge for the Productivity Vertical. First place in the Productivity category will receive five free Zoom Pro accounts for one year, while second through fifth place will each earn one free Zoom Pro account for one year. Additionally, the overall Top 10 Semi-Finalists moving onto CES this January 2018 will each get one free Zoom Pro account for one year.
The Final Champion of XTC 2017 will be awarded with ten free Business accounts for one year.
The Extreme Tech Challenge is the world's largest startup competition. It is a contest designed to identify emerging leaders that have the potential to dominate their markets and reward them with greatly enhanced visibility, infrastructure and resources to scale quickly at low cost. Ten world class startups will be selected as semi-finalists to present live on stage at CES with 3 finalists presenting to a panel of all-star judges TBA on Necker Island. Winners will receive resources to amplify their success and scale their companies.