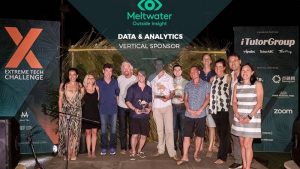 Extreme Tech Challenge (XTC) 2018 has announced the addition of a data & analytics vertical for this year's competition, which will focus on highlighting tomorrow's  data science companies. The new vertical will be sponsored by Meltwater. Meltwater's Outside Insight technology uses advanced AI and data science to help more than 25,000 clients leverage valuable external data to make more informed business decisions. Meltwater was founded in Norway in 2001 by CEO Jorn Lyseggen, who bootstrapped the company with $15,000. Today it has more than 1,500 employees and 55 offices globally.
On their involvement in XTC 2018, Jorn Lyseggen, Meltwater Founder & CEO, said: "Meltwater has long been dedicated to supporting the next generation of tech startups through our data science hub, Shack15, in London and our non-profit, MEST, in Africa. I'm thrilled to be part of this year's XTC and to support the next big innovators."
Lyseggen will be the official judge for the Meltwater data & analytics prize. The winner of this vertical will receive 2 seats at a hot desk in one of Meltwater's global Shack15 data science hub locations (including London, SF and Shanghai) for 3 months. Shack15 was launched in London in 2016 as a co-working and events space specifically focused on data science startups, as part of Meltwater's commitment to fostering tech startup communities around the world.
Commenting on the partnership, XTC COO, Sabine Schindlbauer said: "We are delighted to welcome Meltwater as the official Data & Analytics Vertical sponsor. Their leading technology and media intelligence showcases exactly what our competition stands for, and their fantastic prize for the winner of the vertical will continue to help data-focused startups grow."
Deal Brokered by Slingshot Sponsorship.