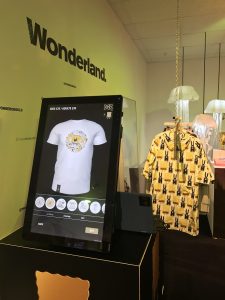 As part of a year-long Spongebob Gold campaign, the Spongebob Gold fashion collection was available from 18th May at the Wonderland Shop at 192 Piccadilly, London and online. The retail launch of the fashion line was celebrated with a launch party and late night shopping event featuring DJ Jodie Harsh.
YR Live powered the experiential aspect to the activation where consumers could design luxury merchandise on their signature 27" touch screens using custom designed software. Using exclusive artwork from the collection, guests could create their own premium t-shirts, sweatshirts, iPhone cases and tote bags and have these printed on the spot to take home.
The exclusive fashion collection and customisable Spongebob Gold apparel was available from 18th-31st May at the Wonderland Shop, 192 Piccadilly London.