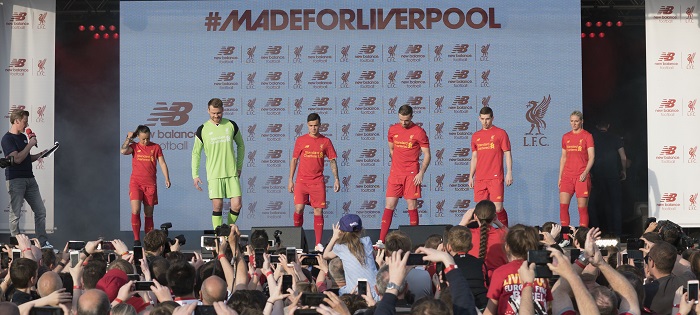 Independent creative agency ZAK launches a new creative campaign to mark the New Balance and Liverpool FC's new football kit this week.
As New Balance Football's global creative agency, ZAK devised the 'Made for Liverpool' campaign to demonstrate how supporting Liverpool FC is more than just supporting a football club, it's a way of life and it's only a select few who will ever experience it for real, only those who are 'Made for Liverpool'.
The campaign features images of key players wearing the kit set against the back-drop of Anfield in various moments of pre-game preparation. The campaign kicked off at an event in Liverpool city centre on Monday for invited press and up to 3,000 fans. Jordan Henderson, Philippe Coutinho, Simon Mignolet, Jon Flanagan and Liverpool Ladies' Gemma Bonner and Natasha Harding modelled the new kit and the event was broadcast live to a global audience via LFC TV. Creative assets will roll out across print, social, AV and digital channels thereafter.
Kenny McCallum, global brand manager at New Balance Football comments: "New Balance is proud of its association with such a respected global club and hopes to leave fans engaged and excited in anticipation of what's to come. ZAK have created the 'Made for Liverpool' campaign that is bespoke to Liverpool Football Club and aims to connect it to it's fans across the world."
Matt Bennett, chief creative officer at Zak adds: "Our campaign symbolises the unique connection that the club has with its fans and brings it to life from the physical kit right through to our creative work. For us, it was about highlighting that the club is something you buy into, whether you're a player, a manager or a fan, and it stays with you for the rest of your career."