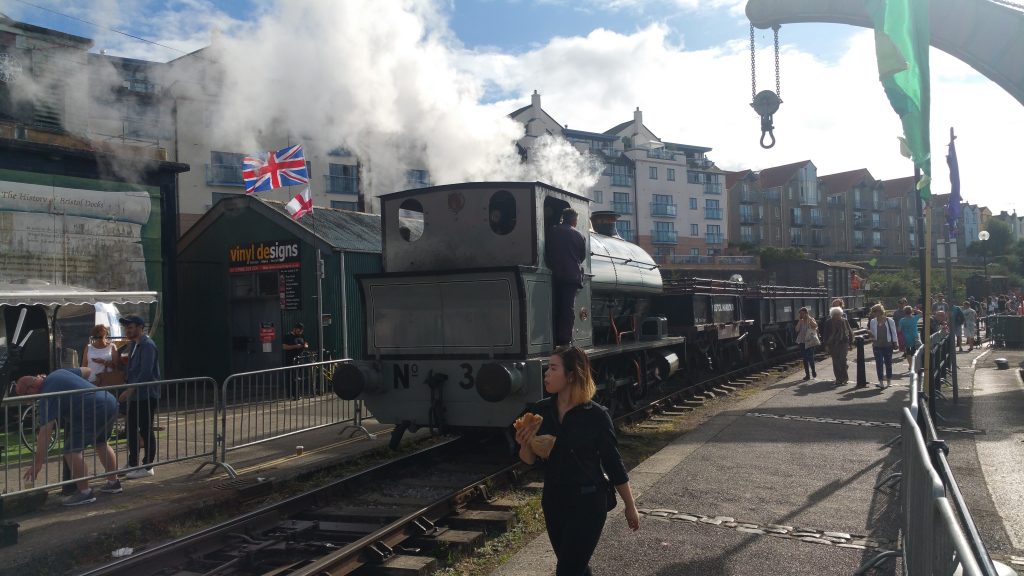 Bristol Harbour Festival (this year 15th-17th July) has been going since 1971. It routinely attracts 250,000 visitors. It must be doing something right.
And so it is.  It is a festival that embraces and transcends community and celebrates oldness and newness extremely eclectically. From invigorating dance, through world music to maritime seafaring tales and even baby racing, it has it all, every quirk and nuance of life as a shared experience. A steam train runs along the docks between music stages and its steam mingles with sizzling sausage BBQ smoke. It is a right old mish mash, with fun around every corner.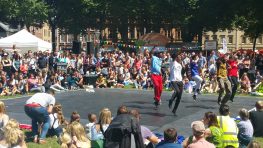 It is a very special, magical event made with love in a lovely city.
Yet extraordinarily (bar the £20 opening concert on the Friday night, headlined by Echo and the Bunnymen), it is all free.
It is also often frustratingly backward, hiding bluff amateurism behind its hippyish easy-going facade. It is free – but its needs are great. So you have to buy a programme as you blunder in. No online clues are there to help you to choose where to go and when. The whole thing is more diverting than Pokémon Go, but not in a good way.  There is nothing – not even a paid app – to help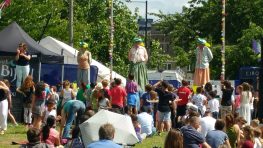 the families with young children or those lacking mobility, to pre-plan their day. To see such a laudable festival make life actively difficult for disabled visitors to plan their day out is beyond baffling. There are masses of stages at Bristol, many zigzaggy miles apart with one way pedestrian routes in place. You can end up stranded by time and dense crowd traffic from the things you most want to see.
This programme nonsense is all in aid of money raising for the event – £2 per printed copy. Surely no one would begrudge Bristol Council that, but why not charge instead for an event app?
Or… now here's a radical thought… get a brand to fund an events app.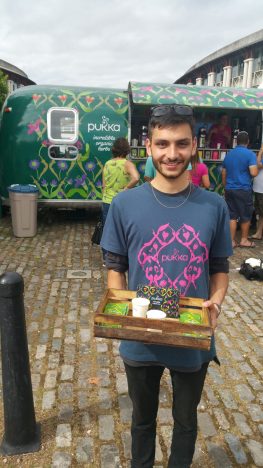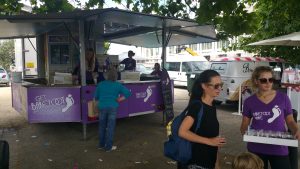 I have absolutely no idea why this hasn't been done. If Glastonbury has managed to enlist EE for its app without selling out its commercial soul, why not the Harbour Festival?
As EU culture grants inevitably get controversially squeezed out in this staunchly REMAIN city, the Harbour Festival could, I would say should, get major new funding from a Telecoms brand. A quarter of a million people is one heck of a reach and there could be many more again if only it were possible to plan ahead for a visit.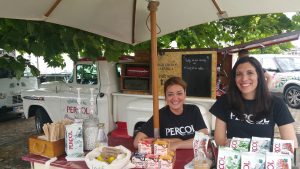 Bristol Harbour Festival has great potential for brand support. This is an event that has a real regional community connection and authenticity. Brands like Barefoot Wines (with agency Sense), Bonne Maman madeleines and Percol coffee (both with agency Enzo Events) and Pukka Teas (in house team) formed a sort of sampling village together, but this was a very small part of the event as a whole. All were doing a good job and all were popular.
Bristol Harbour Festival has, it must be said, survived 45 years without becoming overtly commercial, so perhaps there is no great need to change. But if the alternative to active brand partnership is a hard to find programme at £2, I'll go for brand support anytime and surely a huge opportunity awaits the right sponsor.
There are not many events anywhere where the opportunity is so compelling for a brand to play a seamless part in helping the whole event to run smoothly.
[captions: Top to Bottom, Left to Right – A train along the docks, dance in Queen Square, the Desperate Men introduce the famous 37th annual balloon toss, sampling Pukka's herbal teas, sampling Barefoot Wine with Sense, sampling and selling Percol coffee with Enzo Events, Baraka perform on the BBC Bristol stage]