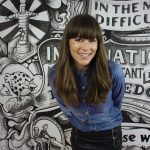 Rachel Bateman, Head of Live Engagement, Initials looks at the drive for engagement in the automotive sector and the consumer confidence challenge
The automotive industry has had a turbocharged year, with new car sales in the UK hitting an all-time high this April. However, the economic outlook for 2017 paints a different picture with business looking tough across the board.
Right now, growth is being matched by price inflation and consumer confidence – perhaps the most vital mainstay of resilience in the UK economy – is in sharp decline. Sales are expected to fall by 6 per cent. It is unsurprising that consumers and businesses are already poised to slam on the brakes when it comes to spending.
These problems could well be compounded for the automotive industry when, later this year, dealerships will face investigation by the Financial Conduct Authority (FCA), which is concerned about irresponsible lending to fund car finance deals. Factor in that the market for new cars is close to saturation, and it becomes abundantly clear that competition is about to rev up.
Brands that want to thrive in this challenging market need to really focus on connecting with customers. In-depth research can be conducted by the consumer at the stroke of a keypad, but brands need to go above and beyond, creating great live experiences that excite and motivate people. After all, what customers love about their vehicles happens in the real world. No image on a screen, no matter how beautiful or detailed, can beat out and about experiences.
Buying a car is a big investment, and most customers arrive in showrooms having already done their research. They know what they want and how much they are willing to pay, so at this point there is limited scope for retailers to influence choices. However, by adding an experiential component to the mix, building emotional connections with potential customers, retailers can become part of the decision-making process that precedes every sale.
Some auto brands are making strides in this space. When Fiat launched its new 500 model, for instance, it did so with an innovative live music set from rising star Ella Eyre. Opening beats were laid down by a Fiat 500 placed on a giant vinyl record, 15 metres in diameter. This meant that the car, the star, the music and the audience could all be part of a completely unique experience that captured the spirit of the brand. Customers could engage with the brand on their own terms, rather than in a highly-pressurised sales environment.
Real world or digital, connectivity is of fundamental importance to all of us and brand partnerships are also proving to be a great way to exploit the possibilities this permits. Consider that Ford is partnering with Starbucks to allow owners of Ford vehicles, equipped with SYNC 3 voice-activated technology, to order coffee through Amazon Alexa. But this is just the beginning when it comes to the wealth of opportunities for brands presented by the rise of the Internet of Things (IoT).
Virtual reality (VR) is increasingly being explored by auto brands as an effective way to integrate the digital world within the physical realm and deliver an immersive shopping experience. Audi is test-driving the tech through in-store VR experiences that give customers the opportunity to take the cars for a virtual spin. Meanwhile, Jaguar Land Rover is boosting sales by making its newest models available instantly in VR, meaning that customers won't need to wait for newly-launched vehicles to arrive in their local showroom to explore them.
With all this possibility coming at us at warp speed, showrooms have the potential to become centres of inspiration and experiential delight, not just sales rooms. Excitement and brand building can, and should, be introduced no matter the environment to create great experiences that captivate customers.
This might seem like tough times ahead. But oh, what fun we'll have.