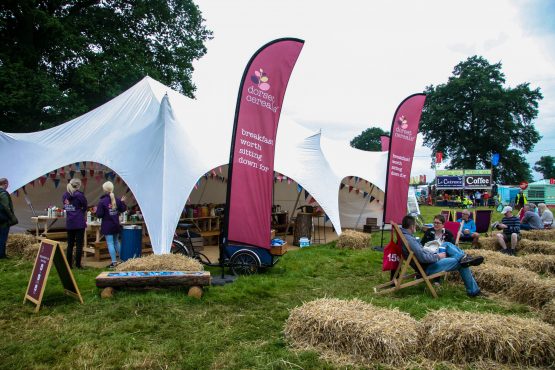 Not every brand experience has to be an Oculus Rift, high voltage show-off-and-share-the-moment #pointandlaugh at your hapless mates participation sport. It isn't that these things are not fun, it's just that we can't keep that going all day and all of the night even when one weekend has been blessedly set aside for capturing the festival spirit. It is a mistake too for any brand to compete with the star attractions – in Cornbury's case how could you compete with being serenaded by Bryan Ferry under the starlit sky?
Breakfasting with my fellow campers at Dorset Cereal's long communal tables was an experience that completely pwned the morning vibe at Cornbury.
Cornbury is at the well-to-do and polite end of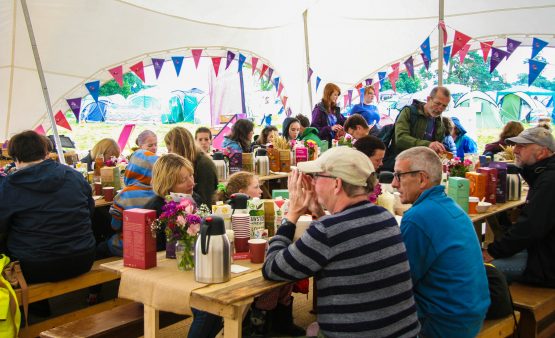 musical revelry, a thoughtful occasion where the preferred drinking involves mixing it with Fever Tree, passing the Pimms jug or pouring the wine, perhaps to accompany a pizza from the delicious Waitrose restaurant. So a morning after the night before, in civilised contemplation with cereal and compote and a dash of almond milk, amidst the gentle murmur of convivial appreciation of my fellow humans was a total joy.
Breakfast IS an experience. When that breakfast is "beautiful blueberry muesli" with some fresh fruit, yoghurt, and a lovely open view into the parkland at Great Tew then the next step is to go beyond a nod of good morning to the folk you are sitting with. So take a bow Dorset Cereals and The Circle Agency, because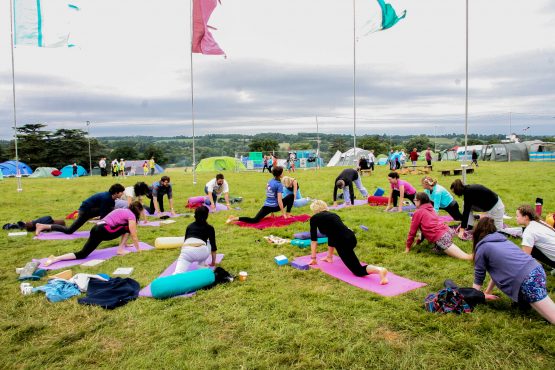 your brand experience found a cute way to break our British reserve. We found friends, and our children played together, and from breakfast onwards our day was better for it, inside and out, and Cornbury was even more charming.
Creating conviviality is both an art and a science. It all looked inviting. Wheat sheaves were dotted between the nice table settings and interspersed with conversation pieces along the table and around the stand.  Campervan cookbooks, colouring in kits, quoits, scale-up noughts and crosses amongst the straw bales, and even a yoga class outside in the peaceful yawning awake parkland, Dorset Cereals had thought of it all and more. Delivering simplicity is never as easy as it looks – and would be easily spoiled with the wrong decoration or a promotional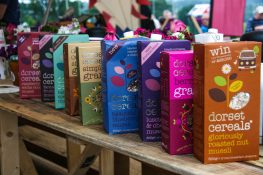 staffer who doesn't quite share the gentle vibe. Breakfast at Cornbury was memorable for seeming so effortless.
Did I mention that we loved it?
Cornbury is a warm and caring festival. Dorset Cereals certainly connected with that emotion.