Frank Wainwright, director, FMBE, interviewed Nick Tuppen, CEO, Threshold Sports after participating in a very real virtual rendition of Threshold's Race to the Stones this summer.
During COVID virtual events have had multiple roles to fulfil. Many have been placeholders – the need to do something. A handful have been replacements for live events – digital success stories that may make the live event obsolete.
Of the placeholder events some have enabled real engagement giving the real event more than just a chance to comeback, but to return with an improved community around the event.
For Threshold Sports, hosting a virtual version of their popular Race to the Stones (RttS) ultramarathon fulfilled more than the straightforward continuity of communications with existing and prospective participants.
The race participation criteria were watered down a bit to make it achievable and safe for participants who might have been short of ultra-readiness. The race also gave headline sponsor Dixons Carphone a valuable communications platform that rewarded the brand's consistent RttS support.
I have participated in RttS as both a real and as a virtual event – if that's your interest, scroll to the 'Race to the Stones as a participant' header below.
Looking back soon after the virtual race, Nick Tuppen, CEO, Threshold Sports was keen to gauge my response to his event, asking me nuanced questions about the positives and negatives of it. Though it had evidently been a success – engaging 8300 participants and raising £50,000+ for charity – he was keen to learn as much as possible. "85% of participants had not done one of our events before", he notes, "so we are interested to see what we can learn from the platform."
From the get-go, Nick – an accomplished adventurer in his own right – showed an interest in me as much as my questions – which I took as evidence of a people focussed business outlook. Threshold's strapline is 'More is in You' and their events celebrate the development of participant's inner strength, encouraging them to go a step further.
It is easy to see how and why this simple character-building premise might be of interest to a sponsor such as Dixons Carphone. Threshold and Dixons Carphone in a relationship that has grown alongside Nick's own rise through the company. Nick oversaw Race to the Stones in year 1 (2011) and facilitated the initial 3-year sponsorship deal with Dixons.
Nick's fascinating career line saw him finish up 3 years at Diageo working on Pimms and then brand managing Gordon's, followed by a year and nine months of self-propelled globetrotting. That was followed by a year at Futureproof Marketing before taking up the job of Head of Events at Threshold in 2011.
9 years on and Dixons Carphone is still on board. The company is deeply engaged with its sponsored event, justifying its investment from multiple benefits to the company. It uses RttS for employee wellbeing and engagement, charity and fundraising and brand awareness with race participants. The company celebrates the diversity of its workforce and this is a good fit with RttS' inclusive ethos.   RttS fully embraces encouragement. For those who do not finish RttS there is always someone to hand to remind them about how far they have come.
Of course, the virtual event could not replace the heartfelt emotion and camaraderie of the live event but the connection with the community – born out in the participation and charity fundraising numbers – indicated that RttS is a desirable badge of honour – a prestige race and a brand that runners associate with readily.
For Threshold, the obliteration of its core 2020 event's calendar can't have been easy to take, but the company, now moving HQ from West London to Brighton, has been able to plan ahead. "The silver lining of not having events is that it forces you to look further int the future", says Nick.  Nick does see at least one positive on the horizon for a company that has always built multiple events for employee incentive and wellbeing programmes. He observes that working from home and remote from office would be here to stay for many companies and sees it as the role for companies like his to create the kind of meaningful teambuilding get togethers that will allow the new breed of remote workers to perform to their best potential.
He is quick to reel off success stories of events that Threshold has delivered for the likes of Samsung and Deloitte.
Since interviewing Nick there has been a government call to restart the process of commuting, and the debate as to whether a full return to office life is desirable or not is ongoing. It remains to be seen what percentage of the current remote and home workers stay at home, but Nick is surely right in suggesting that there is good reason to see team-focussed days as a growth market for experiential event builders.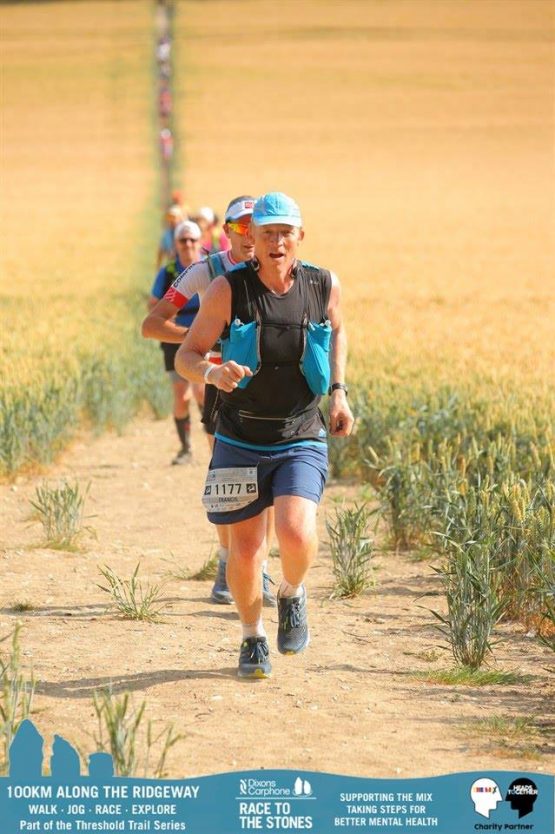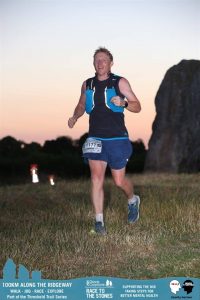 Race to the Stones – as a participant
RttS is a classic ultramarathon that is raced along The Ridgeway, the outstanding national trail with its many flavours of Neolithic Britain. The route ends at Overton Hill. The standing stones at Avebury in Wiltshire are just a short diversion from that end.  Competitors can run the race route in 2 50km/31-mile chunks on Saturday and Sunday, camping overnight, or take on the 100Km/62-mile journey in one go. This accessible event attracts seasoned ultrarunners through to first timers. The Threshold team have a reputation for making completion more possible for many participants with large numbers of event marshals as well as structured aid stations every 10 kilometres.  I can vouch for this. RttS 100K was my first ultrarun in 2018. I live not far from Avebury so the run felt like a homecoming. I have rapidly added 16 more ultras in the two years since, further testimony to this positive experience.
The 2020 virtual event was more accessible. It simply challenged runners to complete the RttS distance in any increments they like in a week, getting their run or runs in anywhere they wanted. It was free to enter though with merchandise to purchase and opened the iconic race up to a broader base of runners many of whom were aspiring to run ultra distance one day. Of course, you could still tackle the event in one go – and leaning on the benefits of being local – my fellow Chippenham Harrier James and I ran it on the actual course.
I loved both the real and the virtual event. Choosing to run the virtual event in one go was definitely the way to go, a satisfying challenge. Arriving at the standing stones at Avebury feels special on any occasion, a journey for the ages. Also this virtual race certainly didn't lack for real toil. However, nothing can beat the intense flavour of the real event with supporters and marshals making your efforts feel epic, together with the firm friendships that are forged on the trails.