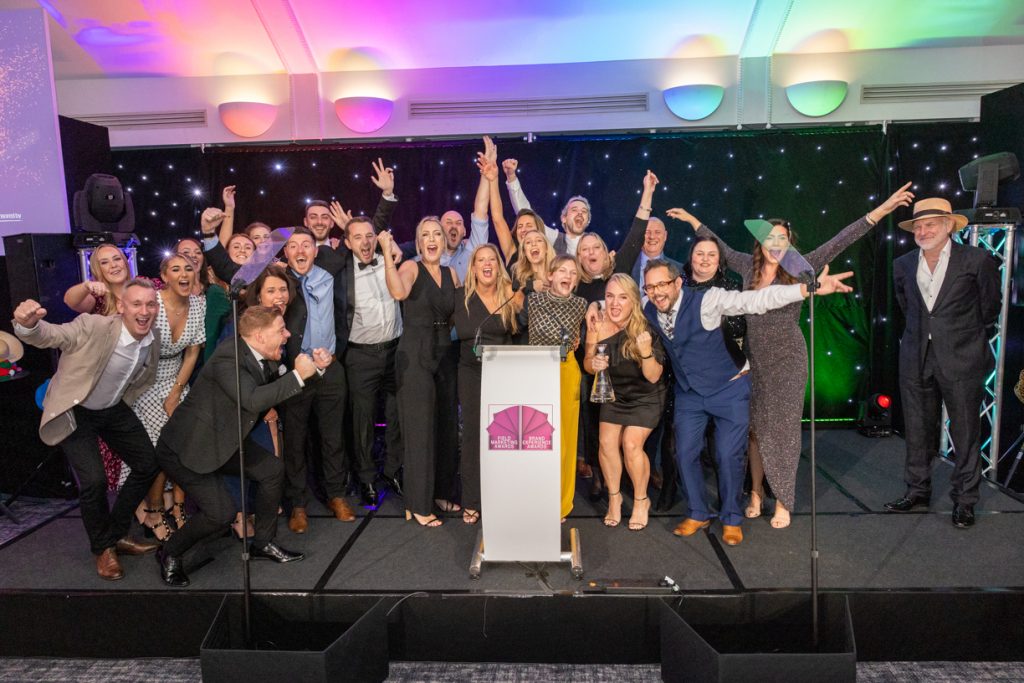 (Award presented by Andrew Bodwick, head of agency and brand, SpaceandPeople)
Agency of the Year is a two-step process, the best category campaigns is step one, a question-and-answer process is step two. Often step two is critical as it points towards the business strength and ongoing prospects of the agency. This year the top four all excelled in round two… making judgement a very hard call.
BRONZE Field Sales Solutions
In the main categories Field Sales Solutions had shown their all-round expertise with many top-rated performances. The product launch campaign for Lenor Outdoorable was a really great example of what field marketing at its best can achieve – sales of the product, growth for the Lenor brand, growth of the category in store, halo effect sales, changes in shopper behaviour, educative store relationships, trusted strategic alliances between multiple stakeholders.
During judging season, Field Sales Solutions became part of a group and is now owned by Impact Field Marketing Group (France). Whilst this didn't affect the judging process the move was indicative of the profitable value and growth brought to the business by the successful handling and development of major clients, Ferrero, and P&G, both of whom have been with the agency – and winning at FMBE – for many years.
BRONZE Logobrand
Like Field Sales Solutions, Logobrand has been on a high growth curve in recent years and evidenced that in detail when taking silver in the Professional Agency Management category. The growth is fuelled by an extending client list seen this year in the agency's successful work across a number of categories. A hard-edged numbers-driven tactical entry with Moet Hennessy was one of the clearest winners of 2022.
In the meantime, we saw many extra strings to the Logobrand bow including impressive logistical effectiveness with its Farrow & Ball relay in Homebase and further advances in its online and virtual programme with clients including JDE.
And anyone who loves long hoped for plan coming to fruition will have enjoyed the undoubted success story of Haribo's Halloween ghost train.
Judges were excited to see Logobrand gaining silver medal status with eco organisation EcoVadis and will look forward to the next steps coming from Logobrand's clear sustainability commitment.
SILVER Tactical Solutions
Like Logobrand, Tactical Solutions has made environmental strides in 2022 with EcoVadis silver recognition. It will be great to see where they take that.
This year has seen impacts from investments into the agency both before and after becoming part of Dee Set Group.
Tactical Solutions has been knocking on the door of Agency of the Year success and will be hoping to step forwards again with these awards.
This year they enjoyed two stand out wins in very competitive categories, sales campaign, and brand ambassador, with two exacting clients, Mars Wrigley, and innocent. Both entries showed clarity, coherence, and partnership, generating praise from a large array of our judges.
GOLD Powerforce
Team gold is often an indicator of a high-performance agency and the win for HariMoco (Haribo Molson Coors) showed a team that was skilled, joyful, and innovative. Rob Hatch also sold his way to silver success in Brand Ambassador. A Molson Coors campaign also impressed as the off-trade launch of Madri showed passion and professionalism.
Powerforce also showed us an impressive silver winning sales campaign for Pladis and a real awards first in Operational Success as the Nestle Coffee Partners team got to grips with calorie legislation compliance across 1000s of points of purchase.
The Lego team were not to be left out either, picking up a silver in Instore.
In addition, Powerforce has rebounded from Covid showing strong EBITDA growth, with figures outstripping other Advantage Smollan companies.
The agency is also focussed on surpassing EcoVadis targets and has a clearly set out strategy.
Powerforce is also well-known for its adherence to the Great Place to Work scheme where it continues to index highly.
Extra award – New Agency of the Year
This is an occasional award, presented when a good enough new agency makes its mark at FMBE. For Green Field Marketing the 'new' title bears relevance because a management buyout allowed the team a completely fresh start – albeit with some existing clients on board.
Green Field Marketing impressed as a refreshing new voice at FMBE 22. As well as an impressive entry with KP Snacks in our Special Award and a gold win in professional agency, the team also impressed with shortlisted work for client Boost Drinks, with Green collating the data from a field marketing campaign that used multiple agencies around the UK.