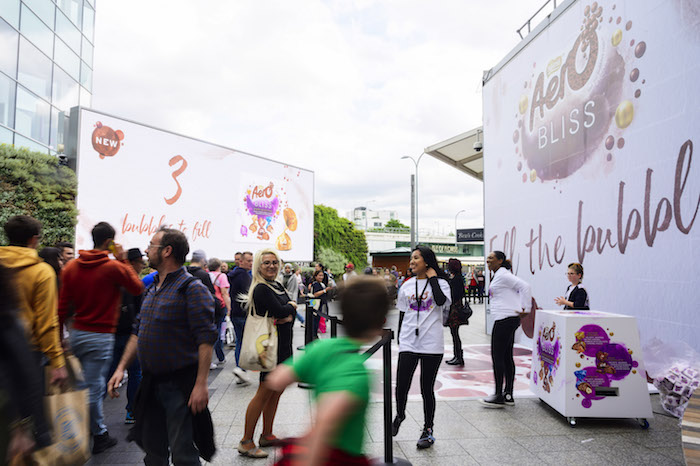 Aero Bliss shared the indulgent pleasure of chocolate in an experiential out-of-home campaign, which dispensed  velvety, whipped bubbles.
Westfield London played host to Aero Bliss indulgent moments campaign on June 15 and 16th.   Shoppers were encouraged to interact with the activity,  allowing them to sample the latest Aero product.
Video captured during the weekend activation will be used in a supporting social media content campaign.
The campaign was created by JWT and planned through Zenith and Posterscope.
To power the concept, Ocean Outdoor installed pressurised flooring and an automated dispenser unit shaped like an oversized Aero Bliss box for people to interact with as the advert unfolded on the Eat Street screen.
Every time a passer-by stepped on one of five pressure pads in the flooring, the screen creative dynamically changes message.
A chocolate wrapper twisted into a replica gramophone, which released the sound of musical bubbles which floated up to the top of the screen. The countdown filled the screen as each pressure pad was activated until all five were stepped on.
Once there were five people participating, the screen message changed again, bubbles were released as the Aero Bliss soundtrack played.  The lid of the dispenser opened to reveal a mixed selection of individually wrapped chocolates for the participants to sample.
Amy Kendall, assistant brand manager Aero from Nestlé said: "Our idea is simple. To create and capture sharing moments of joy by celebrating the magic of bubbly Aero moments."
The campaign was supported by paid social, digital and OOH advertising which is in line with the outdoor activation.