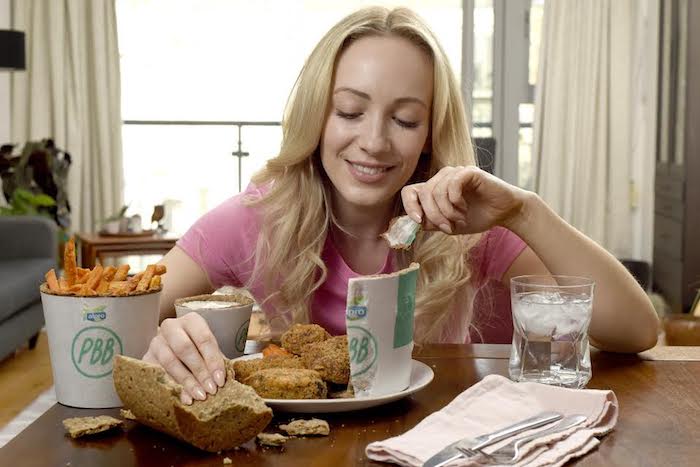 The 'Plant-Based Bucket' – aka. 'PBB' – offers a plant-based twist on a traditional chicken n' chips meal deal; with mushroom 'nuggets', sweet potato fries and a creamy garlic dip served in packaging made from a secret combination of nuts, seeds and spices.
Created by Alpro, 'PBB' will launch in London and Manchester on Plant Power Day (7thMarch) – a nationwide celebration of plant-based food and drink.
The PBB is available for delivery via Deliveroo Editions for £5
"We're launching 'PBB' to show the nation what's possible using the amazing power of plants," says Stephanie Balsom-Eynon, head of Plant Power and chief 'bucket' taster at Alpro.
"We've used a tasty mix of mushrooms and Alpro Almond Unsweetened drink to make the 'nuggets', and the sweet potato fries are the perfect blend of fluffy and crispy," continuesBalsom-Eynon. "The bucket has a crunchy base made using a tasty mix of fennel seeds, nigella seeds, sesame seeds and pumpkin seeds – meaning it's sort of like a crispbread. It's deliciously moreish, and really is good enough to eat; especially when paired with the Alpro-based creamy garlic dip.
"We've always said that the future of food is plant-based, because this way of eating is good for people, and good for the planet – and now, thanks to Alpro, plant-based could be the future for takeaways too."
"For us, it's even more exciting to bring this 'world first' to life on Plant Power Day," continues Balsom-Eynon, "because we created this day to encourage people to add more plants to their plates and see how tasty and exciting easy it can be.
"Hopefully, in launching PBB, we will inspire even the most carnivorous Deliveroo customers to give plant-based eating a try – on Plant Power Day, and beyond."