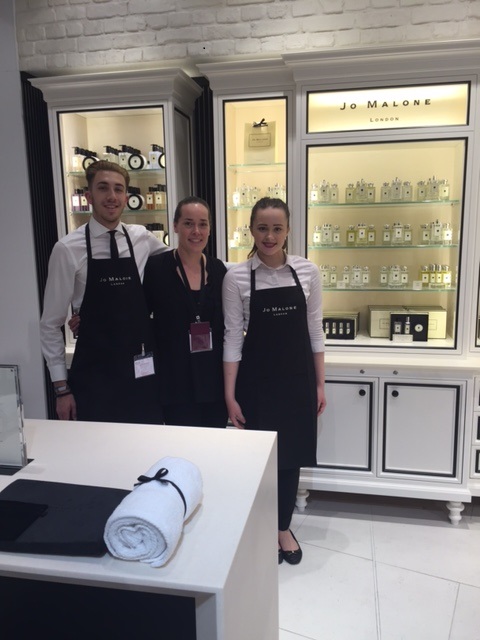 A key milestone in the exciting development plans at London Luton Airport took place on Friday 15th April, with LS Travel Retail UK & Ireland launching a range of incredible new brands in to its flagship Aelia store. Travel retail specialists, Blackjack Promotions, were on site to support many of these brands with staffing solutions and to help achieve the shared goal of taking airside retail customer experience to a new level.
Blackjack is well known for providing specialist customer-facing sales teams and brand ambassadors across a number of travel retail categories, including beauty, liquor, luxury and confectionary with operations across 16 UK airports, three in the UAE and on-board ferries. London Luton Airport is the first expansion into a UK location for Blackjack in over 12 months.
"This new venture has been secured on the back of the success we've achieved in driving up service levels and sales in airports across the UK and the trusted relationships we have built with many travel retail brands here in the UK and the UAE," explained Blackjack managing director Sally Alington.
"Delivering excellent service in a flagship store is always a privilege and a real responsibility, which is why we are incredibly proud to be working with LS Travel Retail and its brand partners at Luton Airport and we are totally committed to creating memorable and lasting customer experiences.
"This exciting new opportunity would not have been possible without the hard work and commitment of our team, and in particular Nikki Fisher and Alicia Brown, who joined us when we acquired Attitude Events in December. It is great to have so much experience on the team and we are looking forward to building some long and successful partnerships at Luton Airport."
Fisher, who was on site for the launch on Friday, added: "It is great to see that Blackjack Promotions has already been welcomed by luxury brands as an additional staffing resource in Luton Airport. Our teams were quickly put to the test on day one, by having to provide additional staffing support at short notice to meet unexpected demands. However, having a well-trained and flexible pool of specialist staff who can meet the needs of the growing store at any given notice, makes all the difference and we look forward to expanding our presence even further across the airport, and improving the in-store customer experience for all."