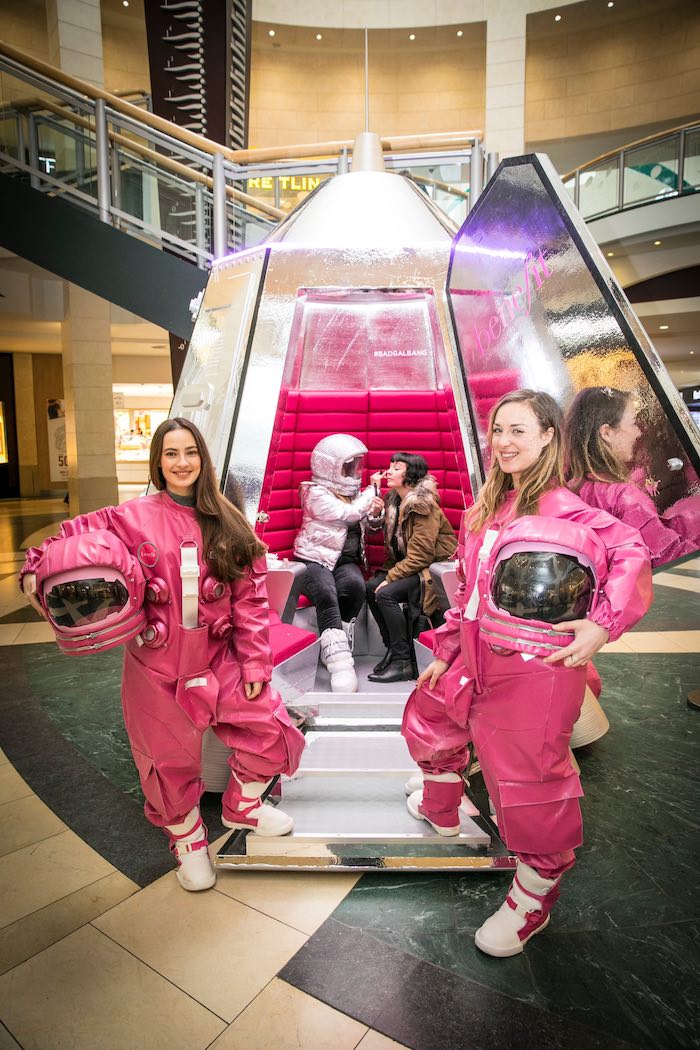 Landsec has announced that Benefit Cosmetics, the San Francisco based make-up brand, launched a silver space pod experience at Bluewater to celebrate the arrival of an out of this world new product, BADgal BANG! on Friday, February 2.
The one day event saw Bluewater's guests greeted by pink astronauts on the lower Rose Gallery outside M&S, and then ushered into a unique silver space capsule.  Guests were strapped in as they became the first to trial Benefit's hotly anticipated BADgal BANG! mascara.  Guests were also invited to follow the space-themed action on social media using the hashtag #badgalbang in a Facebook live streaming event hosted by Benefit.
Sharon Smith, commercial partnerships manager at Bluewater, said: "This unique intergalactic-themed mall activation and launch of BADgal BANG! mascara provided an unmissable experience at Bluewater, one that could be enjoyed both at Bluewater and online by our guests.
"Benefit Cosmetics is the latest in a long list of world-renowned beauty brands to form a successful partnership with Bluewater.  It is also further recognition of our position as the destination for brands seeking to create engagement using innovative, experience-led concepts."
Liz Beardsell, senior events manager, at Benefit Cosmetics, added: "Bluewater was the perfect host for the launch our BADgal BANG! mascara, and our striking silver space pod and pink astronauts delighted and enticed guests in equal measure.  As a brand, we're known for our outstanding products and focus on experience, an approach we share with Bluewater, which made the launch such a success."