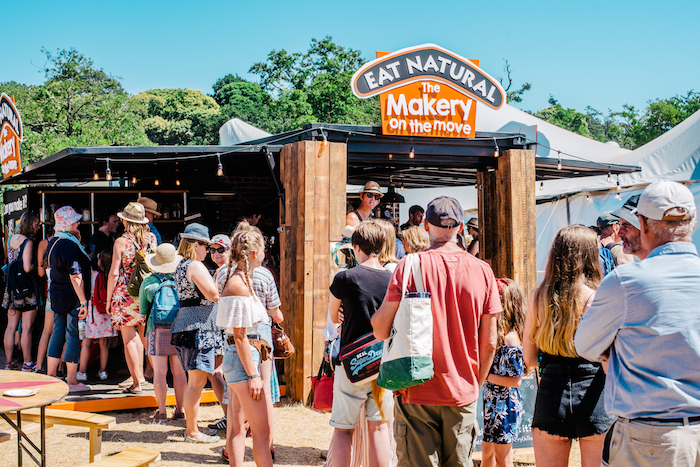 Bristol International Balloon Fiesta has announced a partnership with UK fruit and nut bar brand Eat Natural, bringing the brand's 'Makery on the Move' activation to the event from Thursday 8 to Sunday 11 August.
The hands-on food experience will allow the Fiesta's 500,000 visitors to dive into the brand's production process and customise their own bars, while being introduced to the natural ingredients and origins of the products.
The full activation will contain a miniature factory and workshop space that will play host to various sessions where guests can engage with the Eat Natural brand, including the Pollination initiative, a national beekeeping project. The team will also be distributing fruit and nut bars throughout the event site to keep visitors and balloonists alike fuelled during the early morning mass ascents.
Delivered and activated by London experiential agency Hot Pickle, which has worked with Eat Natural since 'Makery on the Move' first launched in 2018. Last year, the activation travelled to four festivals across the UK, engaging with over 9,000 consumers, many of whom had never been exposed to the brand before. 2019 will be the first year that the experiential tour will visit Bristol International Balloon Fiesta in order to build brand awareness with the event's broad audience.
Ben Hardy, Bristol International Balloon Fiesta event director, will be supporting Hot Pickle with their onsite delivery and logistics. Ben comments:
"We are delighted to add Eat Natural as a fun, interactive activity for this year's event. The early morning mass ascents offer a breathtaking view and now with an official snack visitors can fuel their early morning start. It's great to add fun and educational activities to the site, beyond the main balloon arena and we have no doubt the 'Makery on the Move' will be a popular addition to the event line-up.
"Bristol International Balloon Fiesta is an ideal place for brands to engage and connect with a great target audience and we are always receptive to accommodate appropriate activations that add to the event."
Lucia Gimson, brand marketer for Eat Natural adds, "We're excited to bring our 'Makery on the Move' to Europe's largest hot air balloon fiesta and to have their attendees experience our fun and interactive activation. Our goal is to create brand awareness and introduce ourselves to the many different people attending the event in a fun way that is true to our product. 'Makery on the Move' shows the beautiful simplicity about how our bars are made, and allows consumers to really interact with us in a way we could never have imagined before."