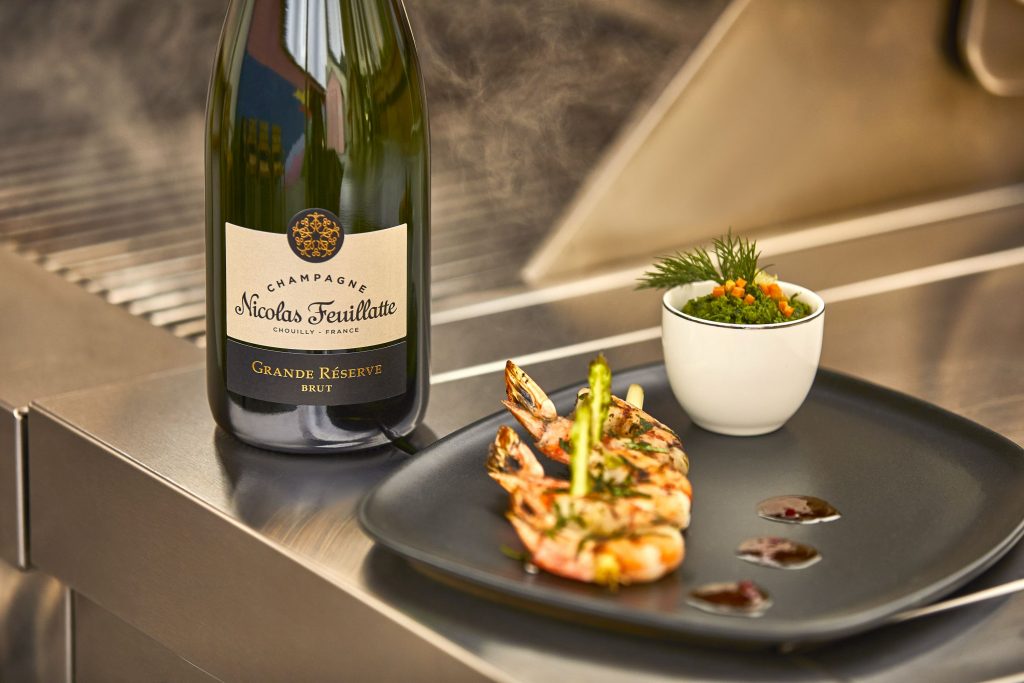 Champagne Nicolas Feuillatte is urging Londoners to raise a glass this summer as its 'Unleash the Bubbles' global campaign touched down in the UK capital.
Hot on the heels of the Chicago leg of its world tour, Nicolas Feuillatte's campaign – complete with an eye-catching Champagne cork bar and experience at Carrubo, Southwark St, from 15th-18th June – proudly flaunts its difference by clearly stating the brand's everyday luxury positioning.
The four-day residence in the heart of vibrant Southwark saw enterprising and fun-seeking champagne lovers sipping Nicolas Feuillatte served from a giant cork bar as part of a series of sun-kissed afternoons and evenings, at the start of celebrations to mark a wider campaign playing out now across social, print and outdoor.
'Unleash the Bubbles' is based around a creative concept from the mind of celebrated illustrator Kim Roselier, who through his stunning artwork, celebrates the collective work of the growers – the men and women – behind France's favourite champagne, and top 3 champagne globally.
Digging deep into the history and culture of Champagne Nicolas Feuillatte, the campaign goes against the grain with a feel-good factor guaranteed. In a category where communications have a tendency towards the austere, like a joyous gust of fresh air it embraces a state of mind that strikes a chord with us all.
The campaign's key visual depicts a joyful crowd seemingly carrying a bottle of Reserve Exclusive Brut, Nicolas Feuillatte's ambassador brand, compelling those who see it to follow and become part of this revolutionary movement through the 'Unleash the Bubbles' strapline.
"I wanted to portray a revolutionary march or parade," explains Kim Roselier. "It's also a reference to the traditional Saint-Vincent processions so popular in our wine regions."
Each character has been carefully brought to life, with a distinctive, self-assured style.
Look more closely, and it's an intricate world of detail and connection between the different characters. There are a few surprises in store, too, including the sommelier scaling the side of the champagne bottle, or the young girl dressed in white scattering vine leaves.
This small, yet perfectly formed crowd symbolises both the collective strength of the growers, and also a totally new state of mind from a champagne that is perfectly in tune with current trends and new luxury codes.
Part of a 360° global campaign that is unleashing a whole new creative territory for the brand, 'Unleash the Bubbles' is a refreshing saga that entices champagne lovers worldwide to celebrate and discover the joyously uninhibited mindset of France's favourite champagne brand.