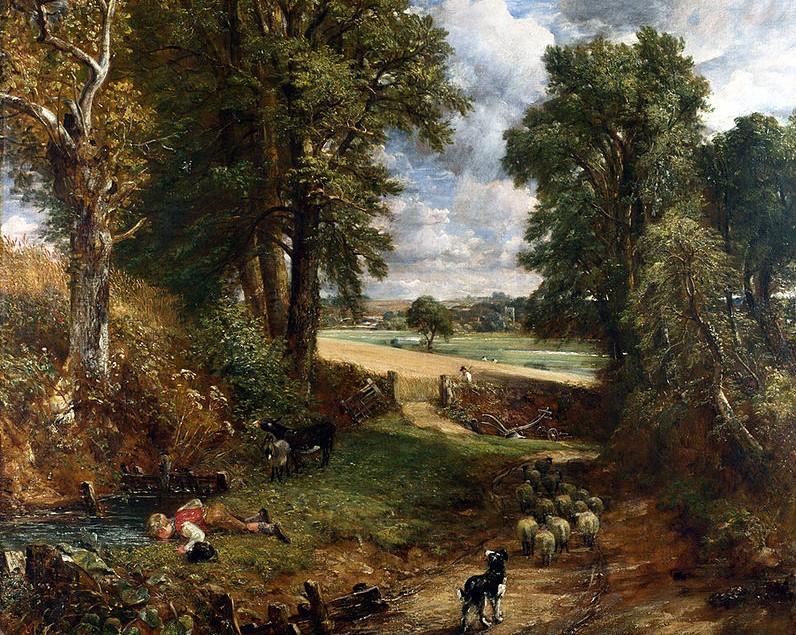 John Constable's The Cornfield, one of the most beloved paintings from the National Gallery's London collection, has concluded an acclaimed week of veiwing to passing visitors in Jarrow's Viking (Shopping) Centre.
The painting, which came to Jarrow as part of the National Gallery's bi–annual Visits programme, was on display until Sunday 25 June at the Viking Centre in Jarrow. South Tyneside residents were encouraged to drop in to view the famous artwork, completely free
of charge, before it moves on to its next destination.
The display of the painting in Jarrow has been co–ordinated by the National Gallery supported by Tyne & Wear Archives & Museums and South Tyneside Council. Ahead of The Cornfield arriving, South Shields Museum & Art Gallery (managed by Tyne & Wear Archives
& Museums) developed an events programme to engage local schools, community groups and families in the project.

There is also an interactive online programme, which schools and community groups can access, featuring items and activities from South Shields Museum & Art Gallery. Sensory practitioner Julia Collar and Foley Artist Ruth Sullivan have created a poem including sensory
sounds, which has been performed by the Museum's Assistant Learning Officer Leslie Palanker. Julia is an expert in creating theatre, sensory stories and resources, and sensory trails and tours for children in the early years and/or people with severe or profound and multiple learning disabilities, such as SLD and PMLD. The poem is available to listen to online and will be used in sensory reading sessions, allowing audiences to engage with the painting through sounds made by everyday objects.

Proir to the arrival, Keith Merrin, Director of Tyne & Wear Archives & Museums, said: "It has been fantastic to work with the National Gallery to bring such an important artwork right into the heart of one of our local communities. We have been working with our communities to prepare for the arrival of the painting and have developed resources for schools and community groups focused on sensory storytelling. We hope that people who visit the shop to see The Cornfield are inspired to visit more of our wonderful cultural venues in South Tyneside and the wider North East region."
Councillor Audrey Huntley, Deputy Leader of South Tyneside Council with responsibility for Culture, Leisure and the Visitor Economy, said: "We are thrilled that South Tyneside has been selected as one of few places to host such an important piece of artwork by the famous John Constable and we're delighted to support our partners to display it for local people.
"We know that not everyone will get the chance to visit the National Gallery in London, therefore this is a wonderful opportunity for residents to view one of the country's best loved oil paintings right on their doorstep. The Cornfield is a beautiful piece, and we would
encourage as many people as possible to enjoy it while it is on display in Jarrow."
Previous National Gallery Visits tours have not only introduced thousands of people to the 
National Gallery but have also provided the opportunity to engage with and benefi
t from 
culture in their local areas in the longer term. Audiences all over the UK who said they were
not regular visitors to cultural spaces responded afterwards that they were interested in 
seeing art again in the future. Workshops and activities delivere
d in partnership with local 
museums and galleries helped them grow their own audiences in turn. Participants in
workshops remarked afterwards on how inclusive they had found the experience and 
described feeling more confident in themselves and their abilit
y to create art and express 
themselves.
Gabriele Finaldi, Director of the National Gallery, said: "
Running the
Visits
tour is a highlight 
for us at the Gallery. It is an exciting way for us to connect with new partners all over the UK, 
and to be part
of their outstanding work with their local communities. Through our collection
we want to enrich lives by connecting art, people and ideas across centuries, countries and 
cultures; our partners drive the conversations about the painting and how they want
to 
respond to it. It is always exciting to see the playful, creative and inclusive learning 
opportunities that grow out of these collaborations."
Mary McMahon, Bernays Curatorial Fellow of British Paintings, said: "
Constable's paintings 
encourage us to
engage with the beauty of the countryside that surrounds us in the UK, and 
the role memory plays in our attachment to it. It's the perfect painting to remind everyone
who sees it that wild spaces, just like great art, belong to us all."
The
Cornfield was displayed until Sunday 25 June 2023 in the vacant Bright House unit 
in Jarrow's Viking Centre.