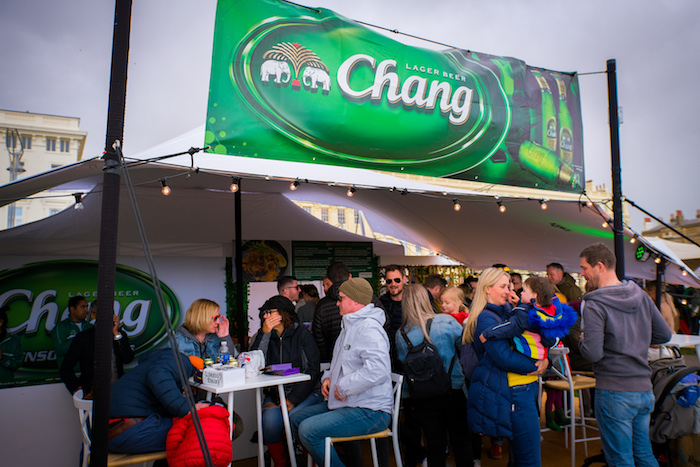 Thai brewer, Chang Beer, has announced it will be Taste of London's official beer sponsor for both its summer and winter events. The move is strategically positioned to continue building market presence in the UK and fostering a more in-depth understanding of the international gastronomy world.
Guided by an ancient Thai philosophy of perfection (called 'lamiat'in Thai), Chang prides itself on using only high-quality ingredients in a carefully supervised brewing process to produce an award-winning beer. At Taste of London 2019, Chang Beer will be available for sale across all bars including the Diners Club VIP Lounge and at its own activation space. This space, called "The Chang Sensory Trails" is a purposefully-curated home where people gather and feed their shared passion in great food and great beer. Ronnie Teo, global head of marketing, Chang Beer said "Chang Sensory Trails is a multi-sensorial culinary celebration of Chang Beer that has travelled to Los Angeles, London and Singapore annually since its inception in 2016. It brings to life the 'lamiat' of Chang and engages our consumers in a highly immersive experience."
2019 marks the fourth year that Chang will be running its  successful Chang Sensory Trails in London. This culinary celebration will feature at Taste of London for the first time in Regent's Park from 19 – 23 June 2019. Chang will partner four London-based Thai restaurants to showcase signature 'home dishes' at its Chang Sensory Trails home. Each dish is special and inspired by the respective head chefs of each restaurant.
Wednesday 19th and Thursday 20th June– Soho-based, Thai restaurant, Wild Rice, will be serving its trademark Thai fried chicken.

Friday 21st June– Nipa will be serving its traditional 'Tod Mun Pla', a classic Thai fish cake with sweet chilli sauce, mixed cucumber relish and toasted peanuts.

Saturday 22nd June– Greyhound Café will be serving its Hot Oil Pork Knuckle, a German-style golden fried pork knuckle with spicy tamarind curry paste, 'jaew'sauce and sticky rice basket.

Sunday 23rd June– 101 Kitchen will be serving its Spicy Fish Salad, combining the classic Thai salad with an North-Eastern Thailand ('Issan') and Laotian twist.


Geoff Tirrell, general manager at Chang Beer UK, commented on its ambitions for 2019, stating: "Chang Beer UK has experienced growth of 26% over past four years and is now stocked in 89% of all UK Thai restaurants. To become one of the leaders in the world beer category in today's market, we are constantly thinking and producing creative and memorable campaigns. By drawing on Chang's strong Thai heritage and authenticity at Taste of London, we believe that Chang Sensory Trails will truly bring the brand to life for consumers."
At the summer edition of Taste of London, Chang Beer will be available at all bars throughout the festival, including the Diners Club VIP Lounge, around the "Chang Music Stage", and at "The Chang Sensory Trails" space. Chang Sensory Trails will also feature at the winter edition of Taste of London at Tobacco Dock later this year.