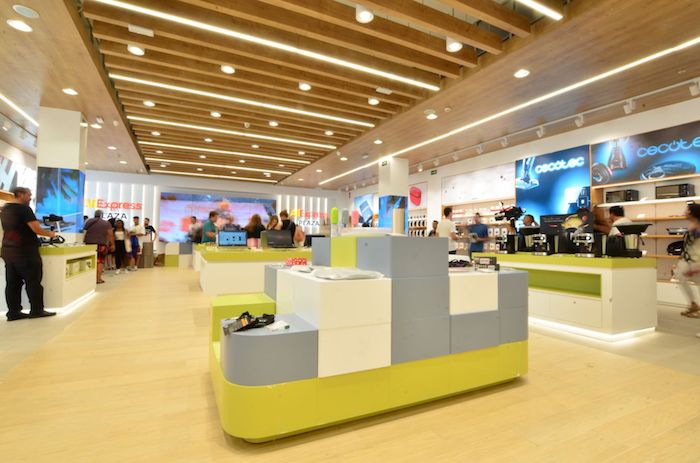 intu has welcomed the first physical store in Europe for AliExpress to its Madrid shopping centre, intu Xanadú.
The store, a collaboration between AliExpress and D.Phone opened on 25 August. AliExpress is a global retail online marketplace under the Alibaba Group, and D.Phone is a major Chinese retailer of mobile phones and accessories. D.Phone serves as a strategic partner in operating the store and assisting AliExpress with commercial innovation.
intu Xanadu, which is a joint venture between intu and Nuveen Real Estate, one of the largest investment managers in the world, has an annual footfall of 13 million visitors.
Combining physical and online retailing, visitors to the AliExpress store can shop a vast range of technology and electronics products, including small appliances, household items and wearables.
Matthew Roberts, intu chief executive said: "The fact that one of the biggest retail platforms in the world has chosen intu for its first physical presence in Europe is testament to the desirability of our winning destinations. This is the latest development in a growing trend where online retailers are taking physical space in high footfall destinations to improve their connection with customers.
"The new store complements the very best retail mix already available at intu Xanadú, alongside best-in-class leisure offerings such as Atlantys Aquarium, Nickelodeon Adventure, and the only indoor ski slope in Spain, ensuring that we are able to give our visitors the perfect day out experience."
Marta Cladera de Codina, Managing Director Nuveen Real Estate Iberia, said: "Having a cutting-edge operator like Aliexpress is a real success story for intu Xanadú. This announcement will see us take another step forward in delivering a comprehensive retail offering to intu Xanadú visitors, making for an increasingly pleasant shopping experience and visit."