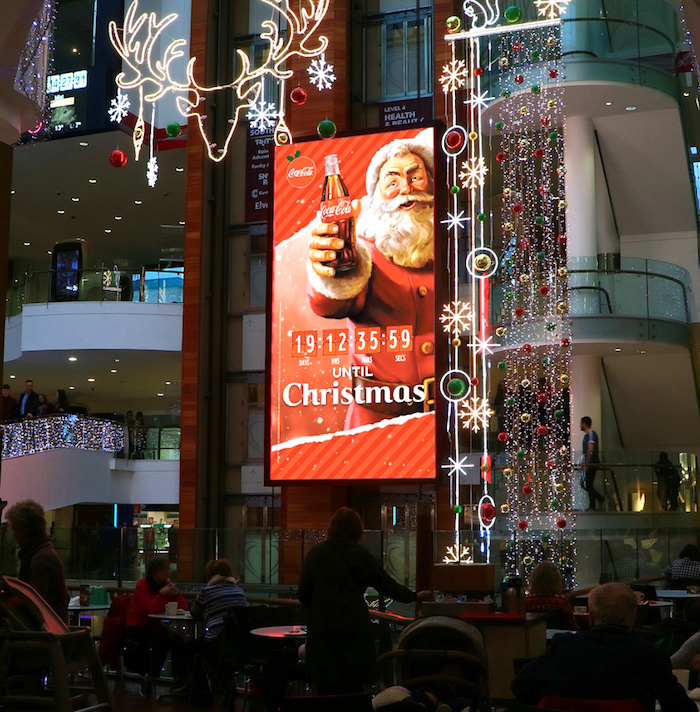 Kinetic is teaming up with Coca-Cola and MediaCom to paint Ireland red this Christmas season.
The team is working closely with creative agency Hogarth and Digital Out of Home production specialist, DOOH.com, to spread the Christmas spirit through Coca Cola's  creative and innovative Out of Home campaign, which will be officially launched on 15th December at the Dx screen in Dundrum Town Centre.
In line with its festive theme, a dynamic DOOH campaign is running in Dublin utilising the Kinetic in-house digital content management system 'D:FOUR', which is powered by DOOH.com. The large format Dx screen in Dundrum Town Centre provides a real-time countdown to Christmas Day, courtesy of Coca-Cola.
The creative counts down in real-time, the amount of days, hours, minutes and seconds remaining until Christmas day. The innovative creative uses the tagline 'Holidays are coming' followed by the digital creative 'unwrapping' to unveil Mr. Claus holding the signature red labelled bottle. The campaign aims to spread and install Christmas cheer, and get people into the festive spirit.
Speaking about the campaign, Brian Nolan, account director, Kinetic said: "The team at Kinetic are delighted to be working with Coca-Cola again this year alongside our partners MediaCom, Hogarth and DOOH.com to deliver this fun, exciting and nostalgic Christmas campaign. The creative campaign combines classic Out of Home formats with our dynamic DOOH content management system, D:FOUR, to deliver a really engaging campaign. The exciting countdown feature highlights the real-time capabilities of Digital Out of Home while creating a sense of hype around the festive season."
Aoife Nagle, Coca-Cola Ireland added: "As a brand Christmas and Coca-Cola are synonymous. It is a key moment every year for our marketing activities and we are delighted to team-up with Kinetic and DOOH.com to bring our 'Holidays Are Coming' campaign to life. We are always looking at new and exciting ways to execute our iconic Christmas campaigns, and the new features that the team have introduced this year have responded to that. We hope they help build the festive spirit among all those who treasure this very special time of year."
Jeremy Taylor, head of strategy, DOOH.com added, "For an iconic brand such as Coca-Cola, supercharging their Christmas message with a literal ticking clock represents a lovely way to dial up the general festive excitement, further cementing their historic association with the spirit of Christmas. The bespoke countdown element was built and delivered by DOOH.com via their RUSH platform. RUSH represents a fresh approach to dynamic digital OOH by driving efficiencies that enable brands to deliver smarter campaigns at scale."
In addition to the colourful Dx screen in Dundrum, the campaign can also be seen across a range of Out of Home formats including large format billboards, 6 sheets, digital and transport formats. Furthermore, a decoratively Coca-Cola wrapped pedestrian tunnel at Terminal 2 in Dublin Airport welcomes travellers home for the Christmas period.