In anticipation of Easter Dr. Oetker's sweet bunny appeared in Manchester,Piccadilly Gardens.
Commissioned by Dr. Oetker and crafted by baking expert Juliet Sear, the entirely edible seven foot tall Bunny Bum took over 110 hours to create using more than 3,000 bars of Dr. Oetker Fine Cooks' Chocolate.
Juliet constructed the bunny installation during a 10 day period with over 450kg of Dr. Oetker Fine Cooks' Milk Chocolate. Melting the chocolate to make it flexible and mouldable, Juliet made the giant creation piece by piece, allowing parts to dry overnight to connect and harden. The final touches on the eight foot ears and adorable paws were then prepared with Dr. Oetker Fine Cooks' White chocolate.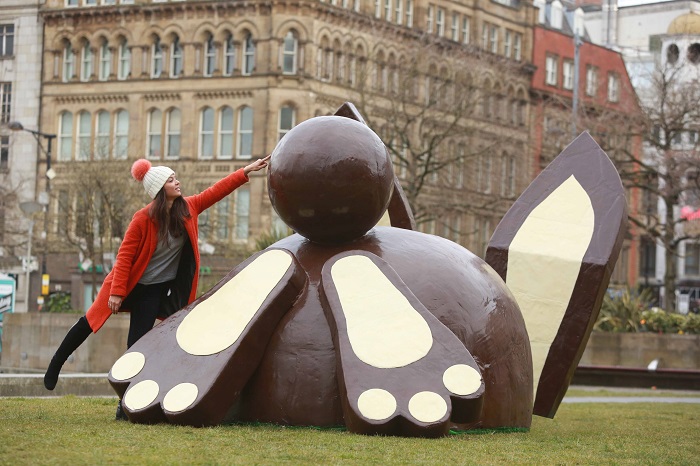 Baking Expert Juliet Sear said: "During Easter, everyone automatically thinks of chocolate eggs. When Dr. Oetker came to me wanting to champion the Easter bunny, I was excited to create something a little different. When you undertake such an ambitious project, quality ingredients are key to succeed. After some expected challenges with the first-time creation, my team and I had lots of fun and were all so proud to have completed it. Move over chocolate egg, there's somebunny new in town!"
 Jan McKee, executive head of marketing at Dr. Oetker said: "We really wanted to inspire baking fans to think beyond the traditional shop-bought chocolate egg and make something more imaginative and fun. We hope our chocolate Bunny Bum will inspire budding bakers and chocolate makers to experiment with our Fine Cooks' chocolate and create a different Easter gift this season!"
Dr. Oetker is encouraging consumers who saw the giant Bunny Bum to share images of it on the brand's Twitter page using the hashtag #BunnyBum to be in the chance of winning one of three luxury Easter hampers.