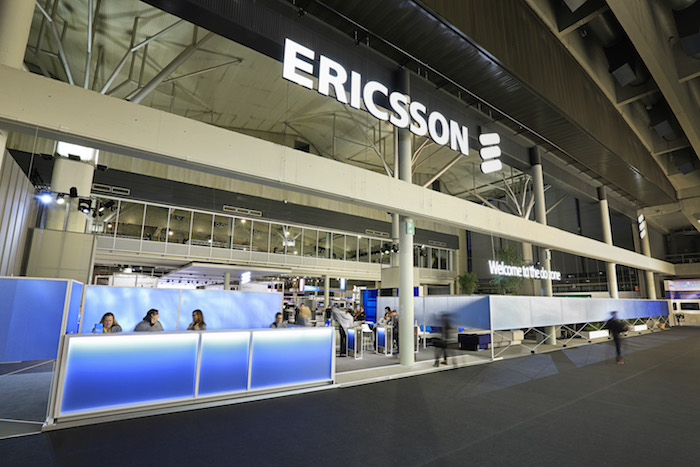 Ericsson brings to life its customer-centric purpose at Mobile World Congress 2018 through a transformed brand experience. Jack Morton Worldwide has partnered with Ericsson to create the experience.
Ericsson's drive is to put customers at the heart of its work – making increasingly complex technology simpler for businesses and helping them be successful in a fully connected world. Every aspect of Ericsson's brand experience at MWC has been re-calibrated to support this focus, 'with an easily navigable space designed around – and reactive to – the needs of its customers. A dramatic central pathway drives through the centre of the 6000sqm stand, providing a confident entry to the heart of the experience before leading to clearly zoned areas that house Ericsson's latest products and services. The entrance to each of these zones features an engaging and memorable digital installation, using motion-tracking technology, designed to express the simplicity of the promise that those products and services can bring.
Meeting rooms, lounges, workshop spaces and even bookable restaurants have also been thoughtfully designed to make doing business with Ericsson an easy experience.
Matthew Smith, head of customer engagement marketing at Ericsson said: "Mobile World Congress is an extremely important platform for Ericsson; it is where we can spend time with a significant number of our customers and partners. For that reason, it is vital that the experience we create is entirely built around our customer's needs, enabling them to not only understand but also to experience what complex technology made simple can mean for the success of their business."
Mike Kunheim, managing director at Jack Morton Worldwide, commented, "Ericsson is a game-changing brand which is constantly evolving to meet the needs of its customers and partners. We are delighted to continue to partner with Ericsson through this evolution, demonstrating the proof of its brand promise at this vital industry platform, MWC."
MWC, the world's premiere mobile industry gathering, takes place from the 26th February to 2nd March at Fira Gran Via, Barcelona.