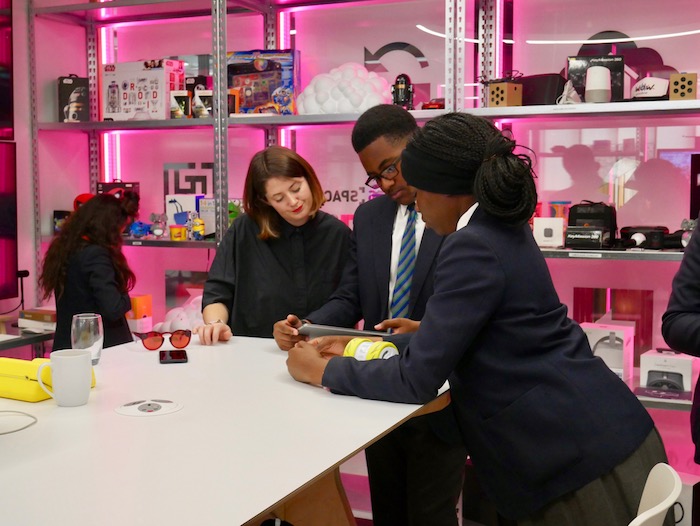 Southbank-based experience marketing agency George P. Johnson (GPJ), opened its doors to local pupils from Walworth Academy for a morning of interactive sessions, as part of Discover! Creative Careers.
Taking place nationwide 18-22 November 2019, Discover! Creative Careers Week is part of the Creative Careers Programme (CCP), that aims to diversify and increase the number of young people entering the creative industries.
GPJ has partnered with the CCP and Walworth Academy to welcome a group of 30 students, aged 13-14, to share the variety of careers and roles that are available within the field of experience marketing. Offering a glimpse into what it is like working in a creative environment and the different steps, and routes it takes to get there.
Senior Strategist Matt Box  shared with students the role and purpose of strategy. Whilst Creative Technologist, Zara Kerwood, and Digital Producer, Caitlin Kobrak,  discussed the many different aspects of technology and what it can lead to.  Paulo Pimentel, European Creative Director for IBM, discussed the skills required to become a creative. The three interactive sessions were concluded with a Q&A session led by VP, Emerging Technologies Nick Riggall.
The CCP is designed to ensure careers in the creative economy are more accessible to a wider range of people and that the creative talent of the next generation is allowed to flourish. GPJ fully support this initiative and feel that the first step in support the next generation is to start by educating what the different careers are, and the skills needed to succeed.
Elle Shoben, Head of Talent and Culture at George P. Johnson, says: "Inspiring and engaging school children on what is available to them within the creative industry is one of our core goals at George P. Johnson, as is actively championing the local community, which is why we partnered with Walworth Academy and the CCP. We very much hope this partnership will be the springboard to an ongoing programme, where GPJ will support local, young and diverse talent. While our long-term plans are still being defined, we are currently exploring how we can act as advisers in schools and how to provide information for schools to work on projects in the classroom."
Sara Whybrew, Programme Director (England) at Creative & Cultural Skills says: "Giving young people an insight into the many jobs available in sectors such as experience marketing is invaluable because we know that there are many roles that people have no idea exist. It is difficult to contemplate a career you don't even know about. We are immeasurably grateful to all those companies and organisations including George P. Johnson who have taken the time and effort to open young people's eyes to the opportunities and are inspiring the next generation of talent."